FIFA 2010 World Cup qualifying website review - Ukraine

During the course of the qualifying campaign for the 2010 South African World Cup, I've been reviewing the websites of England and the other teams in their group.
I counted Croatia as 'done' by virtue of reviewing their website for Euro2008, and I counted England as 'done' because I reviewed the FA website back in September. It turns out that England have redesigned not just their kit but their website since then, and I suspect the Croatia review is out of date too.
Regardless of that, today I'm drawing the Group 6 reviews to a close with a look at the website belonging to the Ukrainian FA - the Федерація Футболу України.
Ukraine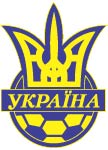 Of England's Eastern European opponents in this qualifying group, the Ukraine have one of the most comprehensive English versions of their website.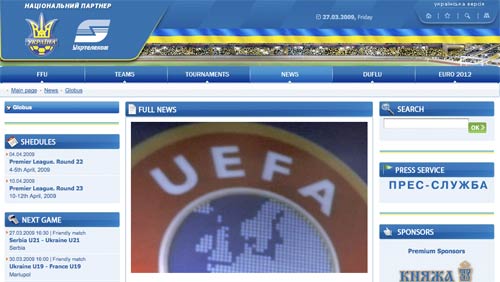 They also use very clear universal icons in the top right-hand corner of the homepage to convey a set of standard website functionality.

The site covers all of the topics you'd expect, with news of both domestic football and the national representative teams.
Search
I was surprised at the weekend that the Welsh FA site did not have a search option in their global navigation, and the same is almost true of the Ukraine site. A search box appears in the top of the right-hand column of content, but the magnifying icon in the header also leads to a search page.

Euro2012
Regardless of who qualifies from Group 6 for South Africa, Ukraine will definitely be at Euro2012 as one of the co-hosts. Preparations for the tournament have already been fraught, but the Ukrainian FA at least have the website under control, with a section already set up for tournament.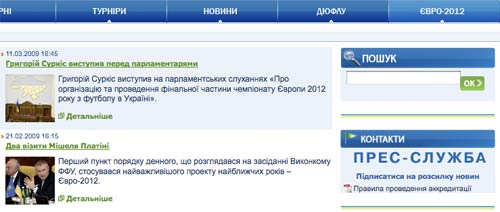 Social bookmarking and RSS
The Ukraine site did not have any social bookmarking features, and there did not appear to be any RSS feeds of content.
Video
Video, including game highlights, is embedded in the site, and does not require registration or subscription.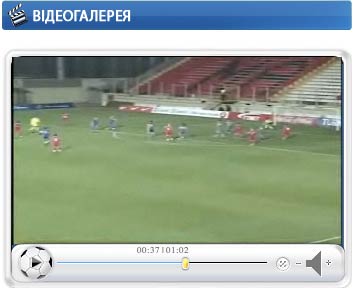 Next...
When the next bout of international football comes around, I'll be looking at the FAI website for the Republic of Ireland.