Stan Collymore scores with me on Twitter
Part of the recent buzz around Twitter in the UK has been driven by the adoption of the service by celebrities. Some of them have been using it as a pure broadcast medium, but there are also some examples of fantastic audience interaction there, and people who seem to be real naturals with the medium.
One of them is Stan Collymore.

Since he retired from football he has often been a controversial figure, but I've been totally impressed with the way that he has been using Twitter in his role at talkSport.
His Twitterfeed just comes across totally as a bloke who is really into his football.
Sometimes he gets his CAPS LOCK stuck with shouty over-excitement.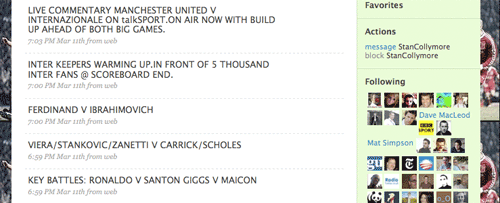 He generally follows people who follow him, answers @questions and uses Twitpic.

"Afternoon people of the Republic of Football. More pigs bladder greatness comes tonight from Manchester, where Newton Heath FC aim to dispatch Internazionale of Milan (that's in Italy), and progress with Chelsea and Liverpool, and maybe even Arsenal, continuing the dominance of the European Champions Cup by clubs of the land from where the beautiful game was born."
He can be cheeky and sweary:
"@dbdc i will twitter as i see fit.you continue star f%$&ing.good day to you. "
He gives out helpful information via Twitter:
"A tip.UEFA.COM will give you official teamsheets around an hour before kick off.Look for presskits on their website.They include formations"
But he has also been really thoughtful on there. A question came in about why more footballers were not on Twitter and he delivered a comprehensive assessment of why not in 140 character chunks.
"I could for example imagine Rio Ferdinand having a 'professional' twitter to highlight knife crime but the notion that Steven Gerrard or any other active high profile football player will come on and chat like Stephen Fry for example, is dreaming of the highest order."
His argument was that player's communications are tightly controlled by agents and clubs, and that there was a distinct difference between footballers and other celebrities like musicians and movie stars. Footballers, he said, get judged in a partisan way by millions of people on their performances week-by-week, making it a totally different experience.
"There are 91 other sets of tribal supporters who will give you stick, try to trip you up in a myriad of ways...Steven Gerrard only wins with the masses if he plays well for LFC or England. A 'movie star' wins on twitter with everyone for being in touch with the 'public'. Completely different for footballers,especially English ones in England."
Collymore cites the kind of interactions he has had on the service:
"I havent played for 8 years and I've been given numbers, asked out, asked about Ulrika Jonsson, insulted over dogging, found a light hearted post about Hazel Blears used in the Times, etc etc, so why on earth would anyone advise a footballer with sponsorships, a boss like fergie, etc to use twitter?"
Nevertheless he seems to be enjoying the experience:
"I came on here because i love to chat, have heard all the slurs before, and want to plug what i believe is a great phone in on the radio station that i work for....Any 'celeb' that tells you that they are only here to be mates with everyone,and show you into their 'amazing' life, is lying. Every actor, writer, model is on here to sell something. Maybe not an object but maybe just themselves."
And he finished that series of tweets, appropriately enough, with:
"Ok, cultural observation over! FOOTBALL ALL THE WAY...YEEEEHHAAAAA"
His presence there has genuinely changed my perception of him. I very rarely listen to talkSport, but thanks to @StanCollymore, their brand is now beginning to play a big part in my match-day experiences via Twitter.