'Delivering Digital Britain' still too much about 'delivery'
I was lucky enough to get a seat yesterday morning when Lord Carter presented the next steps for his Digital Britain report at NESTA. The event was heavily over-subscribed and the busiest I've seen at NESTA HQ.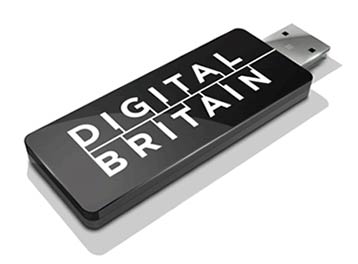 The release of the report was heavily criticised in many quarters, some of which was captured by a move to put it into a more malleable format than the PDF document that was initially published.
I wondered whether Lord Carter would address any of that feedback, or whether this would be a 'set-piece' presentation of the plan ahead. In fact I was surprised by the ferocity of his defence of the report - he really came out fighting his corner.
One of his points was that doom and nay-saying in this debate wasn't doing much to advance the cause.
With that in mind, I thought I'd just note down some of the good and interesting points I took from the panel session, which also featured Neil Berkett, CEO of Virgin Media, and Peter Bazalgette, rather than moaning that people still don't get 'it'.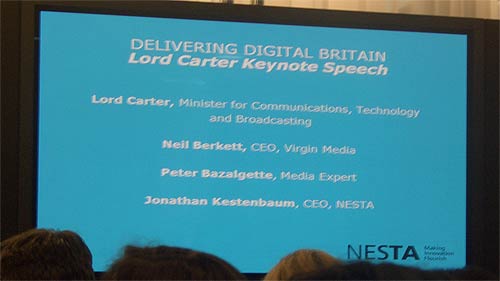 Compete on access, not speed
A lot of the criticism of the reportr revolved around his plan for ubiquitous broadband aiming at a very low baseline speed. He was bullish about this, saying that the principle was about delivering everyone the ability to use digital public services, not delivering the ability for everyone to download lots of movies.
He put it slightly more eloquently than that, but that was the message I took out of it.
It was also quite interesting that even this 'modest' move this involves negotiating at EU level, where regulations suggest that 56kbps is the maximum connection speed governments should be allowed to mandate.
Carter's view was not shared around the room however. I was sitting next to a journalist from one of the broadsheets - not mine - who was quite unequivocal that if we can spend trillions of pounds propping up banks and car manufacturers, we should just cough up and pay for a super-fast broadband infrastructure.
Delivering digital public services
I thought Carter was refreshingly honest about the state of eGovernment in the UK. He stressed that there were pockets where this was being done very well, suggesting HRMC, DVLA and parts of the NHS as examples, but accepted that quality was not good across the whole scope of services. He openly admitted that this was due to the nature of departmental government silos. It was good to hear that being recognised in the public.
Qualified support for DAB
It was also good to hear Lord Carter support DAB, even if it was a qualified support. He said that it 'may turn out to be a mistake', but he considered that it was worth keeping a standalone digital transmission capability for radio, and keeping DAB was the only area in the interim report where the government was being insisting on a specific technology choice.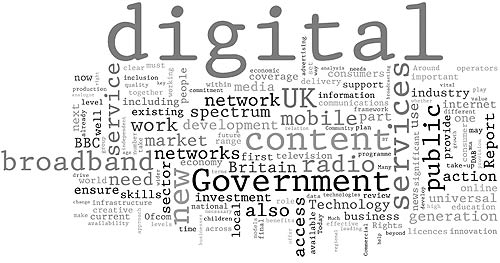 A 're-born' digital generation
Neil Berkett made some interesting points about everyone in the room having been 're-born' into a digital world, and how that fundamentally changes the way we have to manage things like risk to children and protection of intellectual property.
And it is always heartening to hear someone discussing public policy stress that the music industry's model is utterly broken and cannot be put back together - nor should it be protected.
He also made another good point, one that resonates with the information architect and user advocate in me. He said that too often we leap to a technological solution, or put a disruptive technology into the market place, without first working out the business case behind it. That pretty much sums up my current mantra - 'understand the technology, understand the business goal, understand what the user wants, bring the three together'.
Games and cash
Peter Bazalgette initially worried me when his opening salvo seemed dedicated to allowing more advertising on conventional television, but he made two points that I was pleased to hear.
The first was that he mentioned the games industry, the unsung hero of Britain's creative industries. Games are a vital and popular component of our digital world, and are potentially a key channel for delivering public service value and content to a generation disinterested in traditional media. And yet they are almost universally dismissed by our press and politicians as time-wasting playthings that sad and lonely teenage boys do alone in darkened bedrooms.
Bazalgette's second point was that, in contrast to the current concern about competitive impact, during a downturn the BBC should be encouraged to deploy more cash, and there Bazalgette thought the recent decisions over BBC Local Video and Project Kangaroo had been wrong. I'm not entirely sure I agree with him about local video, where I think the BBC Trust's decision gives commercial players in that sphere some breathing space, but I am still utterly, utterly perplexed by the logic behind the Kangaroo decision.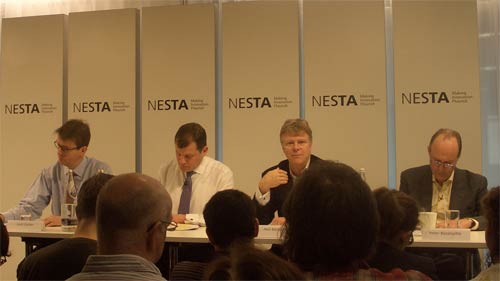 The inevitable mention of Twitter
There was quite a good Twitter 'back-channel' going on during the panel session, and the chairman took one question from the tweets sent to NESTA. It was interesting to note that there was a bit of a groan and and a ripple of distraction that went through the room when Twitter was mentioned.
'Delivery' is not the right word
There were, inevitably, still some big gaps in the thinking - Carter himself said the report was not a blueprint for a 'digital nirvana'. Software and services barely got a look in, for example.
For me there still seems far too much about delivering stuff at people, and not enough vision about the benefits of an entirely connected nation pushing stuff back at government and enterprises, and, crucially, amongst themselves.
There are about six or seven weeks left for Lord Carter, the government, and our industry to get that balance right.