Google Street View spycams spotted in Walthamstow
I was hanging out in Stoke Newington the other day and wound up in a little Turkish cafe called 'The Dervish' - presumably, I'll have to ask forgiveness when I re-enter Greece. I spotted something that I hadn't noticed before - in the window, underneath a tattered old London Olympic bid sticker, was a sticker boasting that the business was listed in Google Maps.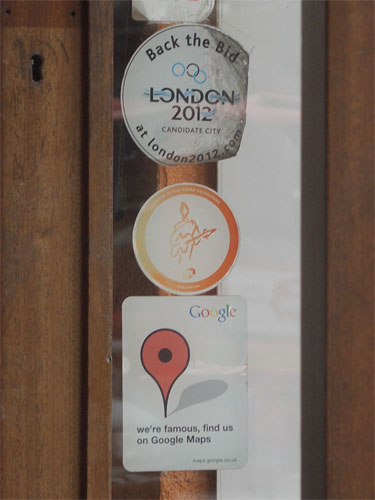 Once I'd spotted one, I started seeing them cropping up all over the place. And I expect we might be seeing many more in the future. There have been sporadic reports of it happening since last year, but the wife and I have spotted the Google Street View camera car prowling around Walthamstow twice in the last couple of days - here is a blurry snap of it about to pull away from the lights near the Town Hall on Forest Road.