A lifetime of lost playlists: Part 12 - Pretending to see the future
In this series of articles I've been looking at how the way I've organised and consumed music and made 'playlists' has transformed over the last 30 years.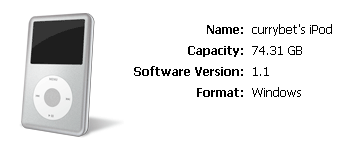 When I first started showing an interest in listening to records when I was a youngster, my playlist mechanism was pretty much shouting at my mum to put my records on. As I got older the Compact Cassette allowed more opportunity for me to choose what I was going to listen to - especially in the car with my family - and a hand-me-down record deck allowed me to play at being a DJ with my parent's old fifties and sixties 7" singles.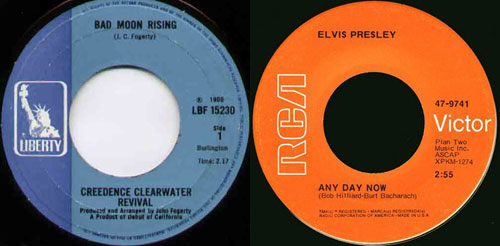 As the 1980s arrived I began to regularly swap tapes around with my friends, record new (and classic) music from my uncle's extensive record collections, and began to buy my own records. The Compact Disc digitised music, and introduced, for the first time, an easy way to skip tracks on albums at the touch of a button, and the concept of random play. Multi-disc machines brought greater possibilities of programming a 'playlist' made up from several sources.
Attempts to introduce a digital format of cassette with the DAT and DCC formats failed, as, commercially, did the MiniDisc. However, the latter format began to allow even greater flexibility in making playlists 'on the go', since the discs could be played on shuffle, programmed, and could be edited so that the track order could be permanently re-arranged.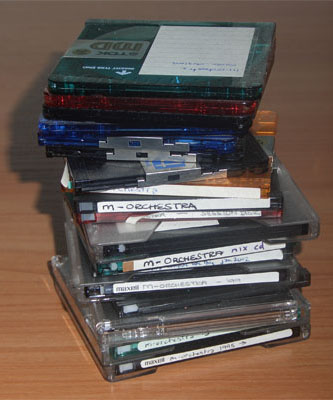 As the 2000s opened, people were increasingly using their computers to organise their music collections. The mp3 format become the format of choice for illegally swapping and downloading music via the first peer-to-peer networks like Napster. The ability to cheaply burn CDs, and the growing market for MP3 Players, moved the hub for music in the home from the old-fashioned 'music centre' or 'hi-fi' to the computer.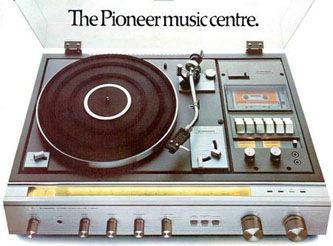 As we reach the end of the 2000s, for many people, and especially for the younger generation, this transition is almost complete. I've been living in my house in Crete for two years, and I still haven't got round to setting up my little CD/MiniDisc/Radio combo, or the record player sitting in the cupboard. Why would I, when the iPod I can carry around in my pocket has got 10,787 tracks on it that I can call up in an instant?
We are so used to being able to assemble playlists from everything we have in our virtual musical collections, that it seems astonishing that I used to have to carefully plan which records I was going to listen to, what order I would permanently record some tracks onto cassette, or be physically restricted due to the way that an auto-changer worked.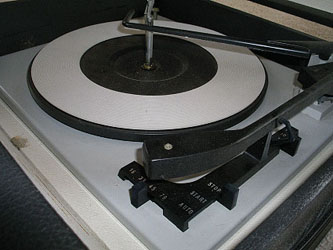 Here is a summary table of the different ways I'm made playlists during my lifetime.


| Years | Format | Metadata | Making playlists by... | On the 'most listened to' playlist |
| --- | --- | --- | --- | --- |
| Early 1970s | Vinyl records | Bright colours and cartoon characters - the written word not so important. | Shouting at mum to put my records on. | The Wombles, The Muppets, Jonny Morris, Doctor Who theme on 'TV Favourites', Wally Whyton, Pinky and Perky. |
| Early and mid 1970s | Compact Cassettes | Hand-written track-lists and artist name written on cassette shell. | Picking pre-ordered tapes from the selection available in the car at the time. Only able to listen to the side of the tape that was cued up ready to play. | The Beach Boys, Rolling Stones, Cliff Richard, 10cc, Creedence Clearwater Revival, The Hollies, Rick Nelson, Dave Edmunds, David Essex and Dr. Hook. |
| Late 1970s | 7" singles from the 50s/60s | Record label branded paper centres with artist, title, label, composer and year published details. Sometimes generic record label outer sleeve. | Stacking 6 records at a time on an auto-changing mechanism. | The Hollies, Rolling Stones, Elvis, Cliff Richard, The Everly Brothers, Buddy Holly, Eddie Cochran, Creedence Clearwater Revival. |
| Late 1970s and early to mid-80s | Compact Cassette | Manufacturer branded labels, with hand-written artist and album and title inlays. | Recording onto tape once. Manipulating playback by fast-forwarding or rewinding through a side. | Depeche Mode, Duran Duran, Human League, Roxy Music, David Bowie, ABC, Haircut 100, Nik Kershaw, Howard Jones, Thompson Twins. |
| The 1980s | Vinyl 12" singles and albums | Label on record. 12" outer record sleeves, often with custom inners. Some 12" singles in generic label sleeves. | Stacking tracks to be played in front of the record player in the right order, so they could be cued up in the dark. | Depeche Mode, Propaganda, Japan, Bauhaus, The Cure, Joy Division, Duran Duran, Gary Numan, Thompson Twins. |
| 1984-1987 | Compact Disc | CD booklet, and details printed on disc. | Re-programming the track order of a disc, or using 'Random play' functionality. | Talk Talk 'Colour Of Spring', Prince 'Lovesexy'. |
| 1989 - late 1990s | Multi-CD player | CD booklet and printed details on disc. Multi-disc player assigned 'disc number' to album depending on the slot it occupied within the machine. | Programming a selection of tracks from up to six Compact Discs. Using the digital display to make compilations that fitted neatly onto blank cassettes. | Radiohead, R.E.M., U2, Depeche Mode, Nitzer Ebb, Jesus Jones, Fields Of The Nephilim, Manic Street Preachers, Mansun, Blur, Pet Shop Boys, Pulp. |
| 1998 - 2005 | MiniDisc | Stickers on disc and disc case. Track names, disc title and disc artist stored electronically with the data on the MiniDisc, and displayed by the player. | Programming a selection of tracks from a disc, or putting a disc on 'random play'. The order of the tracks on a disc could be permanently edited and re-arranged. Individual tracks could be deleted from any point on a disc. | Radiohead, R.E.M., U2, Mansun, Blur, Depeche Mode, monthly compilations of new material. |
| 2001 - 2002 | Rio MP3 Player | Artist, track and album details encoded in mp3 files, displayed on player screen. | Selecting tracks stored on a PC as mp3 files to be uploaded to a player. A maximum of 12-14 tracks available depending on length and encoding bit-rate. | Unreleased bootleg Radiohead tracks that would eventually feature on 'Kid A' and 'Amnesiac', downloaded from Napster. |
| 2000 - 2005 | Burning CDs | Custom covers made using desktop publishing software. Titles written onto Compact Disc with special marker pen. | Ripping CDs or recording vinyl or MiniDisc direct to a PC, then using software to burn a Compact Disc in the audio format. The CD could then be used as a conventional CD, with programming of the playback or random play. | Radiohead, Elbow, Spain, David Sylvian, Divine Comedy, Depeche Mode, Blur, lots of b-sides and remixes made into single-artist compilations, and monthly compilations of new material. |
| 2005 - now | iTunes / iPod | Digital metadata embedded in mp3 files. | Dragging and dropping tracks into a list, or making 'smart' playlists by setting up rules for track inclusion. Random play also available. | The Strokes, Franz Ferdinand, The Killers, Arcade Fire, Idlewild, Nick Cave, Depeche Mode, Kate Bush |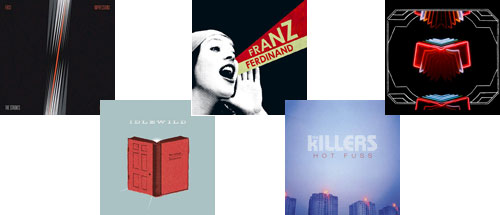 What next...
Making predictions is a risky business.
Introducing the Compact Disc in the early eighties seemed like a good business move to the music industry. Anyone who had said to them that the continued cynical re-cycling of 'remastered' releases would eat away at consumer confidence in the industry, whilst the digitization of their product would eventually lead to widespread free distribution of music and the Apple computer company being the leading distribution medium for music, would have been laughed at.
Which makes me loathe to write what I expect to happen, but it seems a fairly clear guess here. In my lifetime we've seen a transition from a physical product that you had to manipulate, to a virtual product which takes up almost zero storage space.

As I mentioned, my iPod has 10,787 tracks on it, which isn't even all of the music I have on my PC. At this point in time, I 'own' more recorded music than I ever have in my lifetime, and can play it all at the touch of the button. Physical space is no longer a limit to the amount of music you can 'own'.
It seems to me that with distribution and storage costs approaching zero, and expecting the amount of available wireless bandwidth to increase exponentially over time, I'd expect at some point in the future to own a device on which I can't just only play my own music, but can instantly dial-up any track that has ever been recorded. Fancy "I'm Gonna Make You A Star" from David Essex for some bizarre nostalgic reason? Then simply search for it and play it back instantly.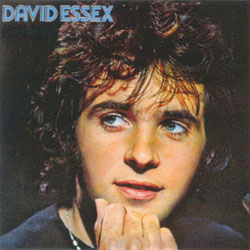 The mobile phone products I worked on whilst at Sony were approaching this kind of ideal, but were hampered by the kind of deals that were able to be struck with major labels. I expect these obstacles to drop reasonably quickly. I'd also like a device that combined wifi, musical playback, and a Shazaam-style service, so that when I was out and about, I could simply click an 'I like this' button, the device would identify what was playing in the background at a bar or shop, and add it to my library or my 'to play / to rent / to buy' list.
Whatever develops, I'm sure I'll be able to update this set of articles with a few more 'formats of the future'. The record industry has still got a couple of years to try to find another sustainable model to sell us music, as consumers try and find ways to organise and listen to whatever music they want, whenever they want, at a price they are willing to pay.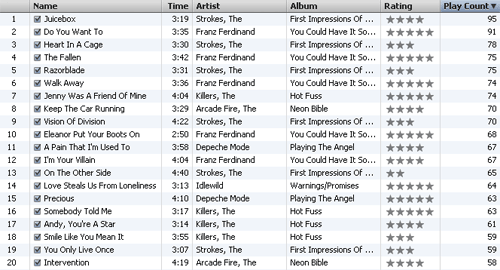 Thanks...
I first started writing this article in Austria in late 2006, and it has taken a long time to get it into this finished format. Thanks are firstly due to Dan Hill, who sparked some of my original thoughts on the subject with his "New Musical Experiences" article.
I've liberated pictures of vintage hi-fi equipment and adverts from any number of specialist websites, including Grundig Radioboy, The Rewind Museum, TaxaFinn's Philips Museum, and this resource about the DCC900.
Finally, a big thank you to my ever-patient wife, Claire, who has dutifully sat down and proof-read this set of 'lost playlist' articles on about four separate occasions over the last 18 months. And each time I claimed it was finally "finished". Needless to say, any remaining spelling or consistency errors are down to me, and not her.