Game for a laugh - Anne Diamond on games in the Daily Mail
I still haven't had a chance to read the recent "Safer Children in a Digital World" Byron Report in full, although from what I've skimmed through so far I'm still sticking by my original opinion when I bookmarked it - that I was pleasantly surprised that it wasn't framed in the hysterical tabloid tone that usually accompanies any debate about child safety and new media. The analogies about how we teach our children to swim and cross the road despite the risks, and then trust them to look after themselves, seemed sensible to me, and I was pleased to see that Tanya Byron specifically identified that:
"Debates and research in this area can be highly polarised and charged with emotion."
Which didn't in any way stop newspaper coverage being...erm...highly polarised and charged with emotion.
The Daily Mail article where Anne Diamond reviewed games alongside her teenage children was pointed out to me via del.icio.us, chiefly for the astonishingly bad photoshop job on the photo of Anne.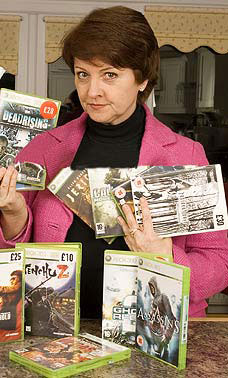 Surely that appears to be them manipulating a photograph to 'fake' something, a trend which the Daily mail abhors when done on television.
The amusement didn't stop there, because the pullquotes from Anne about the various games she tried were hilarious, I guess, to anyone who has actually played any games in the last twenty years.
Of Call Of Duty 4, Anne Diamond writes:
"This is about a military coup in Saudi Arabia in which the president is assassinated. You experience the murder through the eyes of the president himself.
...
You're kicked in the face and then shot - dead - and it feels pretty real."
I'm not entirely sure how much experience Anne Diamond has with being shot - dead - but I do think that the 'first-person perspective' view is a technique which most 16+ teenagers will have seen in films and on television and they will know that feeling 'pretty real' is not 'real'.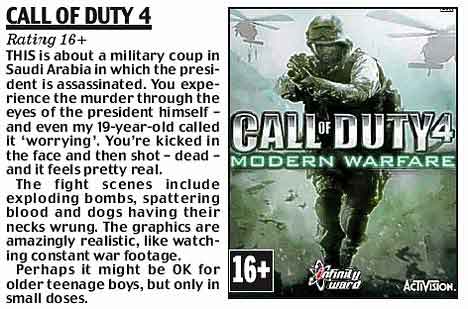 On Resident Evil 4 she said:
"There has been a cataclysmic chemical attack and Earth is roamed by zombies that don't stop until you shoot them in the face or slash their arms off.
...
When I played, I was stabbed to death with pitch-forks amid fountains of my own blood."
"She must be stuck on the same bit we are" was my wife's instant reaction. Personally, if the Earth has been over-run by zombies, I'd hope any kids of mine would give as good as they'd get with pitchforks.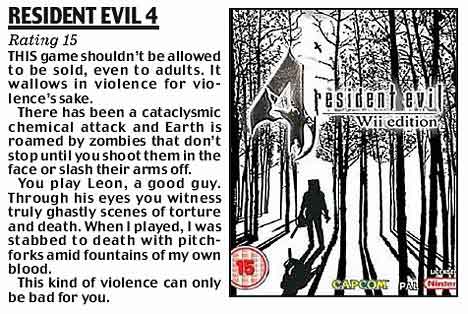 The Daily Mail argument that all of these games are dangerous to children is slightly under-mined by the fact that all of the pack-shots they use in the article have the age certification prominently in view.
And I have to question the competence of Anne Diamond as a judge. Not because of anything I know about her, but purely because of what I have read about her in the Daily Mail itself. It was only in January that the Mail implied that she couldn't be trusted to dress herself, let alone choose what video games her children should play.
"Anne Diamond appears to have taken style tips from a cuddly toy - as she looked very much like a giant teddy bear as she wrapped up against the winter chill.
The former GMTV presenter was seen leaving the BBC's studios in London wearing a bulky fake fur coat.
And judging from the pictures it's clear that she hasn't quite won her battle with bulge just yet."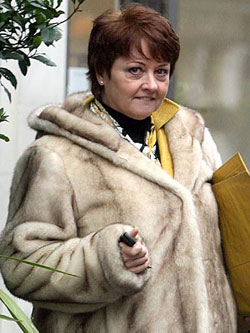 And this time two years ago, the Mail was slamming her for 'cashing in' with a diet book. For those not in the know, when the Mail says someone is 'cashing in', it means earning undeserved money.
"Anne Diamond is to launch a diet book which will make her £250,000 - despite losing just 1lb in three weeks on a reality slimming show."
I wonder if the reason the Mail has been so bitchy about Anne's weight is to do with the fact that in 2003 they paid her to write an ongoing diet diary? The articles have all been deleted now, and the URLs simply redirect to the 'Femail' homepage, but you can still get a taste of the titles on this page.