Google hijacks traffic from newspaper site search
There has been a controversy over the last couple of weeks about Google's introduction of 'Search in search' boxes. For some large web properties who appear at #1 for their brand name, Google has been adding a search box underneath their listing, allowing users to refine their search to get results for just the one domain. Amazon and Flickr are a couple of examples of where this has been introduced, although Amazon seem to have got the feature squashed.
I was interested to see which British newspapers were affected by this, and on Friday, using google.co.uk, I found that Google had implemented this feature on searches for five British newspapers - The Daily Mail, The Guardian, The Sun, The Telegraph and The Times.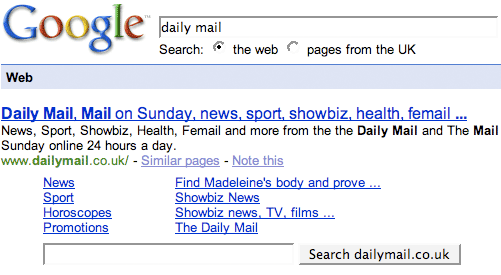 It is unclear to me from this distance whether Google didn't consider the Daily Express, The Independent and The Mirror to be significant enough destinations to warrant the treatment, or whether those web properties had complained to Google and got the feature removed.
Whilst Google has dressed this up as being for the benefit of users, it does have some significant implications for the newspapers involved, and has the potential to dent their revenue.
Prior to this feature, if someone had come to Google looking for information from The Telegraph about 'global warming', they might have typed in 'The Telegraph', clicked through to The Telegraph's homepage, and then used the site search available there to carry out their research. Now, Google is making it even easier to do that research without ever touching telegraph.co.uk, by effectively jumping in and providing their own 'site search' for The Telegraph.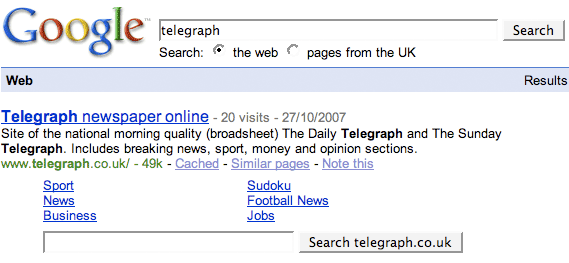 Now, of course, this kind of feature was always available from Google using the advanced 'site:telegraph.co.uk' syntax within your search query, but I've been to plenty of user testing sessions that illustrate that the vast majority of users don't ever visit 'Advanced search' pages, let alone use advanced query syntax.
By allowing people to do site searches whilst still on google.co.uk, Google is potentially reducing the number of page, and therefore advert, impressions that these newspapers may be getting. In fact, not only that, but Google is effectively hijacking the advertising that can be displayed by newspapers against search queries on their own site.
If you search for 'The Sun' on google.co.uk, you get a listing for The Sun, which includes a search box. Search for a story in the newspaper about 'Sky' from that box, and you'll be presented with a Google results page that includes a lot of adverts for the installation of Sky in the UK - adverts for which the newspaper will be enjoying no revenue.
This is even more significant for a paper like The Guardian, which itself has text adverts based on search queries on their search results pages.

Even if it isn't raw advertising income that Google is eating up, it is certainly removing from the newspapers the ability to cross-promote their own relevant content alongside search results.
There is also a negative impact on the user experience. Google's position seems to be 'we can provide a better search of your content than you can provide yourselves'. This might be true for some sites, but The Times, The Telegraph and The Guardian all have filtering options in their site search based around their reader's understanding of their authors, sections and branding, which Google can't at present replicate.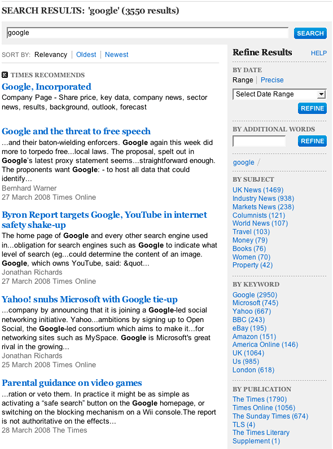 Given the potential this move from Google has for impacting on advertising revenue and visitor numbers to newspaper websites, I wouldn't be surprised to see some of these newspapers attempt to exempt themselves from this 'special' Google treatment pretty quickly.