Who's deceiving who? The Daily Mail on Jools Holland's Hootenanny
"The Hootenanny is an idealised New Year's Eve party with a line-up that would surely be impossible to deliver on 31 December. The stellar cast and audience are, therefore, assembled to record the show in mid-December. The show is recorded 'as live', with a midnight countdown led by Jools."
And with those words in early December, the BBC's Press Office launched the Corporation's cunning plan to deceive viewers about whether Jools Holland's annual knees-up was a live show...
...well, at least according to the Daily Mail, where Clemmie Moodie has been reporting "Jools' fools: Viewers' fury at 'live' New Year's Eve show made on December 20"
"Complaints have poured into the BBC over Jools Holland's New Year countdown television show - because the apparently 'live' programme was recorded 11 days before December 31.

It meant the Hootenanny was riddled with anomalies that left many people baffled and angry.

And it came at the end of year in which the BBC was embroiled in controversy over faked programmes misleading the public."
The Mail even put together a special graphic to illustrate the 'Hootenanny howlers'.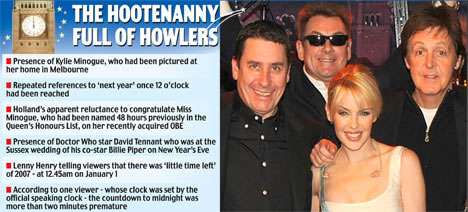 The BBC clearly made a botch of the conspiracy though - because articles about the recording and contents of the show featured quite widely in the press on December 22nd. Here are The Mirror, The Sun and The Daily Express all reporting on and reviewing the programme, mostly concentrating on the duet between Sir Paul McCartney and Kylie Minogue.
Undeterred by the fact that all the pre-publicity for the show seems to stress the pre-recorded nature of the programme, the Daily Mail's article went to its favourite source of BBC complaints - the BBC's official Points Of View message board.
Here's one of the two quotes they lifted, illustrating the 'fury' of this message board poster:
Are you telling me this show is not live? Really? I'm gobsmacked. I wondered why Jools made so many mistakes referring to 'next year' etc. What a sham.

And here is the full quote in situ on the message board itself - I've emphasised the bits that Clemmie Moodie left out:
I've just read this whole thread in disbelief.
Are you telling me this show is not LIVE? Really? I'm gobsmacked.
I wondered why Jools made so many mistakes referring to "next year" etc.
What a sham. What a complete sham.
Thank God the man in the big red coat is real eh?...!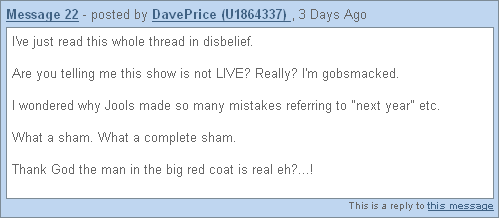 The message board doesn't come with 'sarcasm' smileys, but the first and last sentences of DavidPrice's post and the Santa Claus is real sentiment substantially change the overall meaning.
Which kind of begs the question, who is doing the deceiving and the manipulating of their audience here?