The wit and wisdom of the Daily Express reader
I noticed late last night via the wonder of Firefox's Live Bookmarks and the Chipwrapper Headlines RSS feed that the Daily Express was leading online with the story 'MAGISTRATE PUNISHED IN VEIL ROW'.
It told the story of a public servant who walked out of his job without explanation, causing a trial to be re-scheduled, which wasted taxpayers money. You'd normally think the Express would be complaining about that, but since he did it in the face of the UK's public enemy number 1 - a veiled Muslim woman - you know whose side the Express was on.
By this morning house prices had asserted their place as a more typical leading Express story, and the magistrate's punishment had been downgraded into "Reprimanded: The JP who asked Muslim to remove veil".
The Express didn't remove the earlier version of the story from their website though, you can see it in the 'MORE NEWS / SHOWBIZ' right-hand navigation in this screenshot.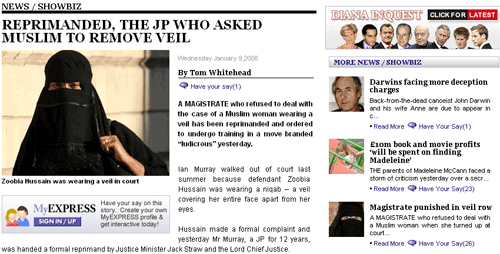 Which means that the comments left on the original article are still online as well.
Now, I've been a very vocal advocate of newspapers including more user-generated content online, I think it adds a real flavour to The Sun and The Telegraph's sites for example, and makes them more representative of the paper's character.
And the top comment on the 'MAGISTRATE PUNISHED IN VEIL ROW' when I looked at the Daily Express page last night?
"a lot of these muslim women use the viel as an exscuse because they are ugly"

Ah, the wit and wisdom of the Daily Express reader.
Gerry has left quite a few comments on the site, which clearly has quite a light touch when it comes to moderation, as on one comment he says that Muslims "breed like rats". Other recent published comments by him include 'squinty eyed jock', 'squinty eyed brown' and 'yellow bellied gutless sweaty sock'. I dread to think what was in the one comment that says it was removed on his profile.
As I say, adding user-generated comments to your stories really does give you a feel for the character of a newspaper's readership, doesn't it?