I'm not convinced online voting shows Rhydian was robbed on X-Factor
"In years to come when someone asks the question Where were you at 10:35 on 15th December 2007? most people will instantly know."
Well, I'm not entirely sure about that, but there has certainly been a furore over the result of the X-Factor voting at the weekend. I always loved these spats - I remember well disgruntled Fame Academy and Strictly Come Dancing fans having it out with each other on the BBC's Points Of View message board with the regularity of clockwork. Digital Spy even has an entire thread devoted to Strictly Come Dancing Conspiracy Theories, and the BBC has already been defending the SCD voting this time around.
At the moment there is greater media and public scrutiny of the television phone-in vote, so grumpy X-Factor message-boards posts are generating newspaper inches, rather than simply generating internet hot air as they probably would have done a year ago.
I was struck by this bit of the Daily Mail's coverage:
Following the recent spate of television phone-in scandals, fans were quick to express their concerns.

One disgruntled viewer wrote: "Rhydian was robbed in my view. For the last three minutes his line was blocked and that had not happened before", while another commented: "The X-Factor result was a complete travesty.

"As soon as Rhydian finished singing in the final showdown I tried to vote for him on at least 12 occasions within the allowed voting time (approx three minutes) only to hear a recorded message each time that the network was busy - try again later.

"How many thousands of other people had a similar experience I wonder? Leon fans had a much longer time span to vote for him. What a con!"

Similarly, an online poll conducted by xfactorblogspot gave Rhydian 78 per cent with Leon just eight per cent.
Now, having looked after them for so long at the BBC, I'm a sucker for an online voting story, so I wanted to check this poll out straight-away. I was a little puzzled by the URL though - surely the Mail report meant xfactordotblogspot?
No luck there, it exists but it is an empty blog. Add a hyphen and x-factor.blogspot.com also exists, but hasn't been updated since May 2002.
A Google search for 'xfactorblogspot' wasn't much help either, the only results were from the Daily Mail and sister site This Is London.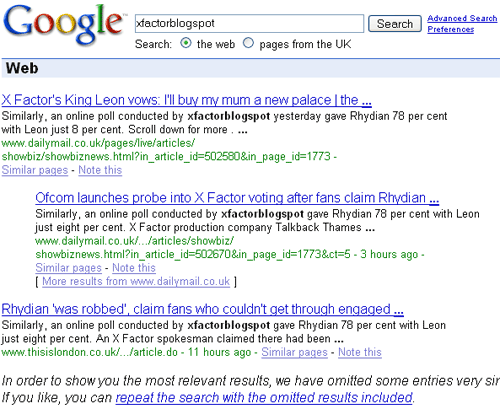 I tried an advanced search on Google for blogs on blogspot.com with xfactor in the URL. Google turned up 43, of which all the ones with 'xfactor' in the domain name were one post wonders without votes or indeed any content - xfactor-online.blogspot.com , same-difference-xfactor.blogspot.com and futureproof-xfactor.blogspot.com or a splog.
I did find one Blogger X-Factor blog that was running an online poll though.
Surely the Daily Mail can't have been trying to illustrate that something was amiss with ITV's phone vote by quoting an online vote from rhydianxfactor.blogspot?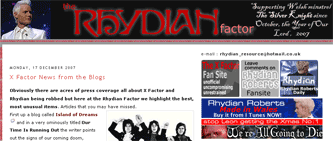 Did they not think the results from that site might be a bit skewed perhaps? Or is that why they seemingly changed the URL to a semi-fictional one?
Talking of ITV phone votes, during my recent double-whammy BBC nostalgiafest, I was reminded of the homepage of the BBC Complaints site when it was launched. On it is a quote from Michael Grade:
"The real test of any organisation is how it deals with complaints from the public"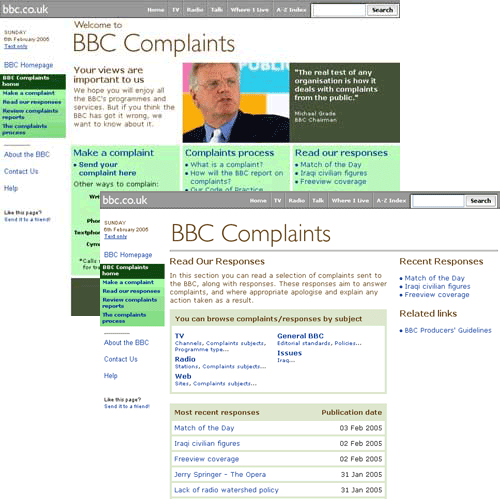 Given the hoops viewers have been made to jump through to reclaim the money that ITV admits it defrauded them via premium rate phone calls, I wonder if he still stands by that quote?