Busting the BBC's 600 Linux users myth
It seems my ex-boss Ashley Highfield dropped a bit of a clanger this week with a claim that amongst BBC.co.uk's 17 million or so users, 5% of them use Macs, but only about 400 to 600 users run Linux. The Linux community has been spluttering with outrage at the low figure given, and there is already a group on Facebook with the aim of collecting more than 600 members who run Linux and visit the BBC website to prove the figures wrong.
I've no doubt that Ashley has been badly briefed here, as I'm fairly sure it is several years since he has got down and dirty with logfiles himself. I would venture that it was probably as a result of someone in the BBC's Marketing or Comms department misunderstanding something coming out of the BBC new media stats system. Of course, it does somewhat beggar belief that sitting on the same floor as a collection of some of the brightest technical minds I've ever met, it didn't occur to ask anyone technically-minded if the figures made sense before putting them out into the public domain.
Or, it could just be a misplaced comma or something on the part of the magazines carrying the quote - perhaps the new BBC Internet Blog will be able to clear that up?
[UPDATE: It has, and the figure is revised upwards to between 36,600 and 97,600]
Anyway, I've already spotted people using my 2005 article "The software used to access the BBC homepage" to refute Ashley's figures - so I thought it was worth re-iterating them here, along with the caveats that are in that article.
In 2005 I wanted to answer the question "How many people use Firefox to access the BBC homepage", and so I went through the logfiles and examined 32 million requests to the BBC.co.uk homepage, looking at the user agents. Amongst those I found about 100,000 coming from machines claiming to run Linux, which equated to a 0.41% share of the requests.[1]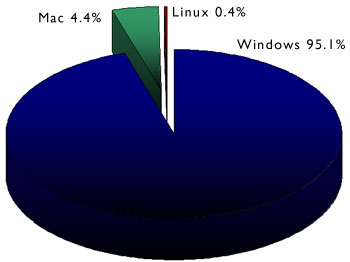 Please note though, that these are requests I'm talking about, not unique users, and from the user agent you can't always tell if a request is coming from a person, or a bot. Or from a person or bot disguising themselves as running something that they are not. Apart from the Hungarian based KummClient which is always sure to shout out 'Linux rulez' as it pays a visit.
You can read the whole 2005 article here, which also discusses the share of different flavours of Windows, and how Firefox was performing against Internet Explorer at the time.
Back to 2007, and in a sense the number Ashley mentioned isn't that important. It doesn't matter whether it is 600 users, 6,000 users or even 60,000 users. That is still a very small drop in a very big ocean. Whether it is the iPlayer, or any other service provided by the BBC, the Corporation still has to choose carefully where it spends its money. Of course the BBC should provide universal access to its services, but it also has to work out what gives value for money for the majority of Licence Fee payers.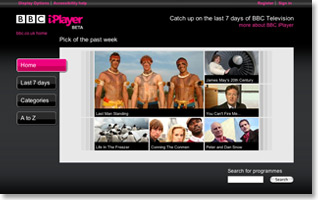 Recently there has been controversy over the BBC's plans to make more Gaelic TV programming. It has a very small potential audience, and the cost apparently equates to £257 per potential viewer. Rent-a-quote MPs have been quick to jump on the "Well, in these times of widespread cuts, how can the BBC be spending £x on such-and-such, when I think it should be spending more on something else instead". Usually more coverage of politics, actually, if you ask MPs.
A Linux version of the iPlayer needs to be looked at as part of that equation - how much is it going to cost to make per user? Even if it was available tomorrow, it would still have to carry some form of 7-day download window and 30 day expiry DRM as required by rights-holders for programmes for which the BBC doesn't hold 100% of the rights - i.e. just about all of them.
And given that the very passionate, vocal, but tiny Linux user base also seem to be the most likely to say things like "Plucking signals straight out of the air and onto a hard drive isn't hard with 2 * 500GB drives and 6 DVB-T and one DVB-S tuners (with room for expansion)", how many of the theoretical 600/6,000/60,000 Linux users would actually use a DRM-enabled Linux BBC iPlayer?


[1] And I should add that at the time the article was vigorously rubbished on Slashdot for also under-counting Linux, because I didn't analyse the whole of the long tail, and I didn't make the obvious assumption that a large number of requests that appeared to be from Windows were probably from Linux users disguising their User Agent. [Return to article]