"How do I get a refund for an ITV phone call?"
"How do I get a refund for an ITV phone call?" - a question that around 10 million people might be asking themselves today. Or maybe they are thinking: "I wasted money on entering a competition via telephone or SMS, and I want to get my money back from ITV"
Either way, they are probably not thinking, oh I know, I'm a consumer who needs a PRS reimbursement.
However, that is exactly how ITV have phrased the call-to-action on their website for people to find out how they can get their premium rate phone calls refunded. What a wonderful piece of user-centered terminology to use.
Click here for more information on measures to reimburse consumers for PRS failures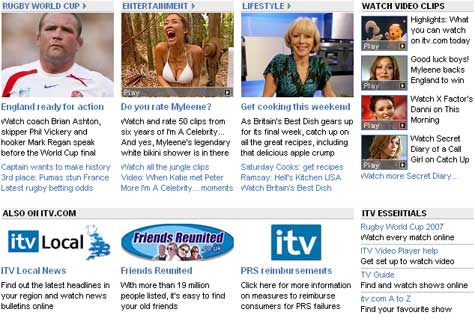 You'd think, with it having been a complete PR disaster for them, they might try to make getting a refund easier. Because I think it is going to be pretty hard for the average 'consumer' to work out, for example, if they called ITV Play 2+1 at a time "where banner advising that the competition was closed was omitted on ITV2 + 1 catch-up channel"
Once you've realised that you want a PRS reimbursment, not a 'phone call fraud refund', you can pre-register to get your money back here, or phone 08000 280180, and ITV will then send you a claim form.
The maximum refund available is £1.34 if you sent a text to Ant and Dec's Gameshow Marathon between September and October 2005, so that seems quite a bit of a barrier to go through - and presumably at least one stamp - to get your money back.
Oh, and if you have any accessibility issues with using the web, forget trying to find out which shows were affected. The table carrying all the information is a solid block graphic with no alt text.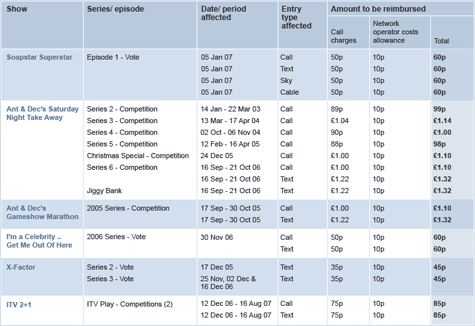 So, I've taken the literally ten minutes that was needed to put this tabular data into a table that can actually be used by all web visitors and understood by search engines, rather than obscuring it all in an image file.
Table of shows affected and reimbursement levels
Show
Series or Episode
Date or Period Affected
Entry Type Affected
Refund - Call Charges
Refund - Network operator costs allowance
TOTAL REFUND
Soapstar Superstar
Episode 1 - Vote
05 Jan 07
Call / Text / Sky / Cable
50p
10p
60p
Ant & Dec's Saturday Night Take Away
Series 2 - Competition
14 Jan - 22 Mar 03
Call
89p
10p
99p
Ant & Dec's Saturday Night Take Away
Series 3 - Competition
13 Mar - 17 Apr 04
Call
£1.04
10p
£1.14
Ant & Dec's Saturday Night Take Away
Series 4 - Competition
02 Oct - 06 Nov 04
Call
90p
10p
£1.00
Ant & Dec's Saturday Night Take Away
Series 5 - Competition
12 Feb - 16 Apr 05
Call
88p
10p
98p
Ant & Dec's Saturday Night Take Away
Christmas Special - Competition
24 Dec 05
Call
£1.00
10p
£1.10
Ant & Dec's Saturday Night Take Away
Series 6 - Competition
16 Sep - 21 Oct 06
Call
£1.00
10p
£1.10
Ant & Dec's Saturday Night Take Away
Series 6 - Competition
16 Sep - 21 Oct 06
Text
£1.22
10p
£1.32
Ant & Dec's Saturday Night Take Away
Jiggy Bank
16 Sep - 21 Oct 06
Text
£1.22
10p
£1.32
Ant & Dec's Gameshow Marathon
2005 Series - Competition
17 Sep - 30 Mar 05
Call
£1.00
10p
£1.10
Ant & Dec's Gameshow Marathon
2005 Series - Competition
17 Sep - 30 Mar 05
Text
£1.22
10p
£1.32
I'm A Celebrity - Get Me Out Of Here
2006 Series - Vote
30 Nov 06
Call / Text
50p
10p
60p
X-Factor
Series 2 - Vote
17 Dec 05
Text
35p
10p
45p
X-Factor
Series 3 - Vote
25 Nov, 02 Dec & 16 Dec 06
Text
35p
10p
45p
ITV 2+1
ITV Play - Competitions
12 Dec 06 - 16 Aug 07
Call / Text
75p
10p
85p
Reimbursements are made up of call charges plus an allowance for operating costs
Note 1: Please note that for Series 2 to 5 of Saturday Night Takeaway an average call charge has been used
Note 2: Please note for ITV2+1 this only affects limited dates between certain times where banner advising that the competition was closed was omitted on ITV2 + 1 catch-up channel