3D Television wows me at the BBC Vision Multiplatform day
As I mentioned on Friday, last week I went to a bit of the BBC TeleVision department's multi-platform day. As well as marking the announcement of a new strategy for commissioning multi-platform content, there were a few presentation sessions - one of which was about Doctor Who which I sneaked into. There was also a big demo area.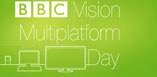 The event wasn't just for BBC staff, it was open to independent producers and (I believe) journalists as well.
The exhibition area had quite a bit of interesting stuff, as well as an opportunity for people to play on a Wii or a PlayStation 3. I was most endeared by the fact that alongside all these hi-tech gizmos they had a stand for one of my staple fayre's - 'Metadata'.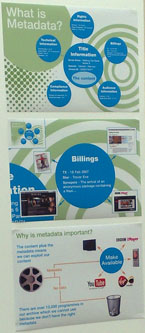 I chatted for a while at the Archive Trial stand. The limited trial is now fully subscribed (I couldn't join in anyway of course, because I'm mostly based outside the UK now). It was explained to me that the trail was testing two things - exposing people either to the breadth of content the BBC has in the archive, or the depth of content.
Since it tied in with the recent season on India and Pakistan, this had been chosen as the in-depth area, and the trial team seemed really pleased with how much that in-depth material was being looked at.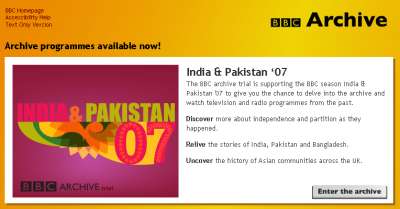 In the middle of the conversation, the guy manning it moaned that they were having a hard time attracting interest during the expo because they were sandwiched between the PS3 and 3D TV, whilst all they had was old black'n'white clips.
I immediately proved his point by exclaiming "3D TV, where?" and running off to find it.
For me, it was an absolute jaw-dropping 'oh-my-word-I-have-just-seen-the-future-when-can-I-get-one?' moment. The BBC R&D team from Kingswood Warren were demoing the Philips WOWvx system, and I was amazed.
In the same way that people glaze over when I talk to them about the technical gubbins of websites, I didn't particularly understand how any of it works, but there were nine 'sweet spots' around what otherwise looked like a regular large flat-screen TV where you got 3D images.
Proper 3D.
With depth.
And stuff coming out of the screen at you.
It was quite astonishing, and all new to me, although the technology has been in the pipeline for some time. This YouTube clip shows people being surprised by the system in a shopping centre in Sofia.
I had a pretty similar reaction myself, although I can proudly say that I didn't actually reach out to try and touch the stuff.
Out of the 'sweet spot' the picture became blurry, which suggested that it wouldn't be much good to have on in the background whilst you were wondering around doing the housework. However, one of the R&D guys explained to me that one research technique has placed a camera in the TV itself, which tracks pairs of eyes around the room and adjusts the optics accordingly, to move the 'sweet spots' around and to keep the 3D effect intact.
They also explained that live action production is currently tricky and expensive, requiring extra cameras to provide the right depth and range information. However, generating the graphics via computer was (relatively) easy, and the showreel also included some 2D footage that had been re-rendered by computer into 3D. They pointed out some of the flaws in that clip to me, but to be honest, if they hadn't mentioned it, I would have been none the wiser - it fooled my eyes.
This You Tube clip explains a bit more about how it all works.
(Incidentally, I found that last clip on one of the BBC's internal blogs, which infuriatingly, I can't link to, subscribe to via Bloglines, and don't feel I can quote. Which is a shame, because it seems like there is some good content there trapped within the BBC firewall)