Heraklion airport doesn't quite live up to the BA online check-in promise
I'm back in the UK for work for the majority of September and October, with a trip to Barcelona for the Euro IA summit and a brief sojourn back to Crete for a last summer "Hurrah!" sandwiched in the middle. As a result, I shall certainly be racking up my carbon emissions with a variety of airlines.
The first flight was with British Airways lask week, on a route I've not flown before - Heraklion to London Gatwick. Heraklion is a good three hours away from our house by bus, but we couldn't get any seats on anything leaving from our local airport.
It was the first time I have used the BA.com online check-in service, and I was certainly impressed with the virtual part of it.
I'd set a reminder to check-in online before the flight on my calender, but BA themselves reminded me 48 hours before my flight with a 'departure' email.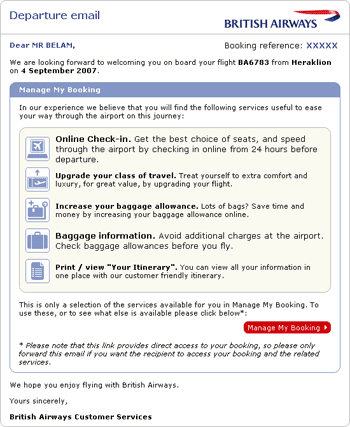 This allowed me to go straight through to our flight itinerary online, acting as both a source of useful information for me, and a bit of understandable marketing in terms of pushing me towards an upgrade.
Once I got on to the British Airways site, the fact that I could check-in online was very clearly and prominently displayed.

As I got going, the task was delimited into 5 natural steps.
Since I had permission from my fellow traveller and spouse, which I had to confirm via a check-box, I was able to check-in for both of us.
The ease of interaction with the flight seat-plan was impressive. I was shown where our seats would be on the exact model of aircraft we would be flying, and was able to move them to our preferences.
Each of the passengers on the ticket were numbered, and it was simply a case of clicking on the numbered passenger I wanted to move, then clicking on an empty seat in a position I was happier with.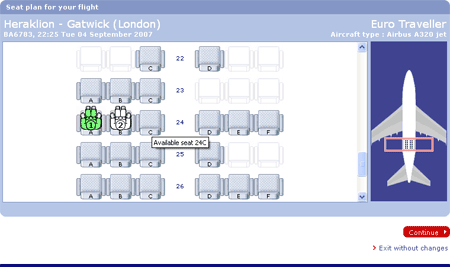 On some flights the online check-in means you can print your own boarding pass, but I was informed that this wouldn't be possible for this particular route, with a pop-up explaining all about it.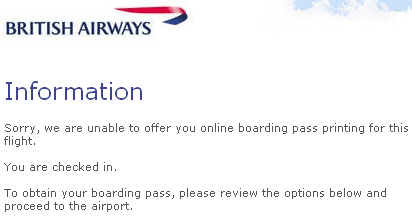 Instead I was given the exact location information within Heraklion airport where I could pick up our boarding cards and drop our luggage off.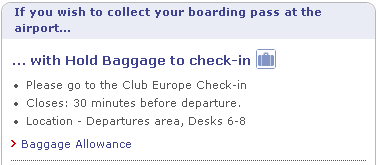 The only slight gripe I had with the online process was that after finishing the check-in, when I returned to manage my bookings the 'start checking in now' call to action was still displayed at the top of the page.
This did put a little bit of doubt into my mind as to whether the transaction had been completed properly, and the system would be more reassuring if it could re-display the 'check-in success' message I was given after my check-in was completed.

Whilst I was very impressed with the online experience - the physical one wasn't so great. It must have been very difficult to role out an online application to take the place of a standard check-in transaction at a huge variety of airports around the world.
Heraklion's Nikos Kazantzakis airport isn't anywhere near as modern as the Eleftherios Venizelos Airport in Athens, and it doesn't currently support any kind of online check-in facilities.
We still had to queue with everybody else on the flight to present the paper confirmation of our check-in at the desk, and have our luggage weighed and then x-rayed.
I'm sure that the online check-in can be a real time-saver in airports where British Airways are better able to have a say in how their check-in area is equipped, but we didn't really get the full benefit.
However, for a company who have suffered quite badly in the reputation management stakes in recent months, I found their online offering to be smart and easy-to-use, and I'd definitely do it again in future.