Greek police beat up a photo blogger
I was saddened to find out over the weekend that Greek police have beaten up a blogger in Thessaloniki for taking photographs. Teacher Dude received a dislocated shoulder in the assault. He's one of those people that I've never meet in real life, but who, thanks to their blogging, I count as one of my friends in Greece.
He was taking photographs - as he does so excellently - of a demonstration in Thessaloniki, when the police objected to him photographing them.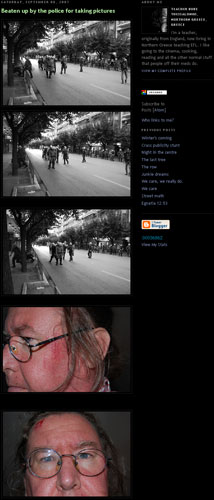 Photography is a sensitive issue in Greece - as the British planespotters / spies found out during their lengthy ordeal for taking photographs and plane numbers down near a military base in 2001.
Since I've been in Greece there was also a filming / espionage incident near me. In the aftermath of the death of air force pilot Kostas Iliakis, a Turkish film crew was arrested for spying. They claimed they were simply filming background images of Souda Bay for a news package.
It is quite easy to unwittingly stray the wrong line of the Greek rules on photography. When we landed on Crete for the first time last year, my natural blogger's instinct was to immediately turn around and take a picture of the ANEK lines ferry that had carried us through the night from the mainland.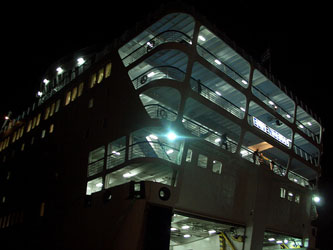 It was only later that I realised that virtually all of Souda is a non-photography zone due to the naval and military facilities nearby.
Teacher Dude seems to have been unlucky because the country is in a heightened state of alert at the moment. There is an early election at the weekend, with the two leading parties, ND and PASOK, closely matched in the polls. The recent terrible and devastating fires that have swept through Greece have also left the country very emotional.
However, Greek police do have a reputation for unwarrented violence. Earlier this year, in something that Teacher Dude blogged at the time, a video surfaced on YouTube of Greek police making two Albanian suspects in custody take it in turns to slap each other and call each other a "wanker". At the time it seemed that the authorities were just as concerned about why the video had been leaked as they were with the contents of it.
I wish Teacher Dude a speedy recovery - and hope it won't put him off keeping up his excellent set of Flickr photos from around Greece.