Free public wifi in the Lasithi region in Crete. Well, almost
Regular readers will know that I have been highly critical of the internet infrastructure provision here in Crete. Although the island has broadband the local phone network where we live isn't of sufficient quality to get ADSL, so at home we are stuck in the netherworld of dial-up.
There has been quite a bit of to and fro in the letters page of the Athens News in the last few weeks between various would-be customers and OTE.
OTE stress again and again that they are going as fast as they can, but that they are the only company investing in broadband infrastructure in the country.
They say this as if that were a badge of honour, rather than an indication that putting the entire responsibility for getting Greece online into the hands of one state-owned monopoly is a major part of the problem.
So I got a pleasant surprise the other week when I found free public access wifi in Crete.
As part of our road trip around the island we ended up in the Lasithi region. At our stopover in the town of Sitia my laptop pricked up its little wifi antenna and straight away tried to connect me to a free public network.
Sadly I wasn't able to connect in the end - and of course dangling free wifi in front of me and then not letting me get online is a severe form of teasing.
They had a 'guest' login available, but every time I logged in it either told me that I had got the security captcha wrong.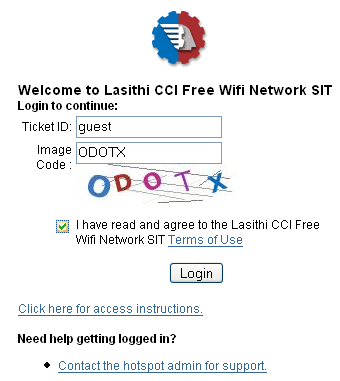 Or it told me that I had run out of time, or had exceeded my download limit.

I did email them on the contact address given, but I didn't get a reply, but I assume the project is still running, and not just some sort of hangover from a failed pilot.
Despite not getting online myself, I was very impressed with the forward thinking of the LCCI (AGN) Free Wifi Network, which was in marked contrast to internet innovation elsewhere in Greece.