My 'biased' view of the Biased BBC blog

Download a print version of this article
I'm sure that I qualify genetically as a Beeboid, and so view the site through a prism of my own telly-tax funded bias, but I enjoy reading the Biased BBC blog. And I do mean enjoy. I always used to keep it in my subscribed RSS feeds when I worked at the BBC, and still dip into it from time to time in Austria.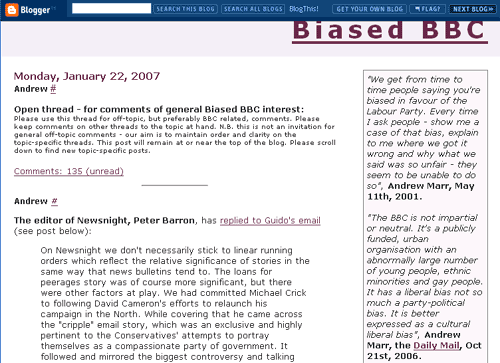 And there are a few reasons why I still find it an useful and enjoyable place to visit on the internet, not least of which is the fact that the issues being debated on the pages of the site are issues that link me back to home.
Whilst most of the people there politely disagree with anything I publish in the comments section, I generally find the community on there to be a collection of intelligent people, well-versed in current affairs, well-read, and with a passionate viewpoint. Albeit one I mostly disagree with.
So why visit?
Well, for one reason, however diverse the BBC might claim their employment policy to be, and Jonathan Ross recently had a few words to say about that, there was one minority group I never encountered when I worked at the BBC.
I worked with Christians, Jews, Muslims and atheists. I worked with people I knew to be Labour voters, Liberal Democrat voters and Conservative voters. I worked with men and women, tall people and short people, gay people and straight people, and people I got on with and people who annoyed the hell out of me. And I worked with people of all sorts of ethnic mixes.
But I never, to my knowledge, ever worked with anyone at the BBC who thought that it should be abolished.
For that reason alone, I always thought it was important to visit sites like Biased BBC, as they represented a viewpoint and collective 'groupthink' that was different to any possible BBC 'groupthink'. The BBC's own Points of View message board was also a useful resource to hear voices that disagreed with the BBC's very existence, but Biased BBC was much more raw, and untouched by BBC moderation.
Of course, one of the stereotypes perpetuated on sites like Biased BBC is that all BBC staff live in Islington, read the Guardian, and enjoy the odd decaf latte from some sort of fair-trade coffee outlet.
[This is patently absurd of course, since on a scale 4 to scale 6 BBC salary you couldn't possibly hope to afford to live in Islington :-) ]
The stereotypes go both ways, and I think a lot of people at the BBC would dismiss the crowd at Biased BBC as a bunch of right-wing cranks, fantasists, and conspiracy theorists who believe that there is an organised cabal within Broadcasting House plotting to use the airwaves to bring about a socialist and/or Islamic utopia.
In fact, if you read the comments on the Biased BBC blog for a while you get a very different feeling - that there are several different viewpoints being expressed there, united by one common enemy, the BBC.
Mentally, I divide the contributors into several groups with varying numerical strengths on the site:
People who think the BBC is a good idea, and would happily pay for it, if only it wasn't full of lefties.
People who think that the BBC used to be a good idea, but since it is now full of lefties, and they can't see it getting any better, don't think people should be forced to pay for it anymore.
People who think that the BBC used to be a good idea, but regardless of any bias, think technology has now out-paced the need for a TV Licence fee, and that the BBC should therefore be abolished/privitised.
TechCrunch's Michael Arrington*
People who think the BBC was always a bad idea, that people should never have been forced to pay for it, and that since TV went colour it has become full of lefties, and so having to pay for it is a slap in the face.
People who think the BBC was always a bad idea, that people should never have been forced to pay for it, and that even before TV went colour it was full of lefties, and so having to pay for it is a slap in the face.
People who think the BBC is a stealth propaganda arm for militant Islam in the UK.
People who think the BBC should be abolished on free market principles, regardless of any perceived bias.
People who think the BBC should be abolished on principle. And also that once it is abolished, the ex-staff should be beaten with sharp sticks. And that this should probably be broadcast on ITV, with some sort of premium rate phone-call determining whether Jonathan Ross or Anne Robinson should be jabbed the hardest.
And collectively they can be a suspicious lot too.
When the News Sniffer site was launched by John Leach, he targeted BBC News and The Guardian online because he was interested in seeing the way that the mainstream media distorted topics that he was interested in. Since these were left-leaning causes, the initial reaction on Biased BBC was to distrust the software. As I wrote at the time:
On the News Sniffer blog I saw that the person behind the site had recently contacted Biased BBC about it. I loved some of the comments it generated, where initial glee quickly turned to mistrust as they realised the person behind News Sniffer was "left leaning" and generally a "not-we". One commenter suggested that the News Sniffer site would turn out to be biased itself. It took me a few minutes to get my head around the concept of being instinctively biased against a site that sets out to detect bias in a news source you already believe to be biased :-)

Likewise the other day I posted into one of the comments threads on Biased BBC about some new prototypes that Matthew Somerville had made on the web displaying various slices of data about the BBC News site.
The almost instant response was "Matthew's toys are fun but seem to be betas. It'll be good to see what they produce when fully working", with, it seemed to me, the underlying assumption that the data couldn't be trusted.
But as I say, I do enjoy visiting the site, and it has not been without success in pricking the BBC's editorial conscience on some issues. One of the BBC's editorial guidelines team clearly reads the site, and sometimes posts comments agreeing that a piece of content on BBC News has breached the guidelines in some way, and that action is being taken to redress the situation.
It was also at least partly as a result of the Biased BBC comments thread that the notorious From Our Own Correspondent piece where Barbara Plett said she cried about Yasser Arafat has been appended with a note that the piece had been the subject of a complaint that had been upheld by the BBC Governors.

However, I do find that a lot of the attempts on the Biased BBC blog to uncover the evil conspiracy behind the BBC to be wide of the mark, and in the next part of this series of posts I want to look at some of the common traps that the accusations fall into, before going on to look at some areas where the Biased BBC site raises some really interesting questions about the BBC's output.

Download a print version of this article


*Just to clarify, TechCrunch's Mike Arrington probably hasn't actually ever contributed to the Biased BBC blog, but he did call for the abolition of the BBC.