Thanks for the score BBC Sport - but who actually won?
I'm sure, like the media coverage of A-Level results, I moan about this every year, but it is that time of the year - F.A. Cup replays - where I get to gripe again about the way replay results are presented on the BBC's mobile phone service.
Last night provided a classic example. The tie between Middlesbrough and Bristol City turned out to be an epic of the genre, with first one team being ahead, then the other, and in the end penalties being required to differentiate between the Premiership team and the one two leagues below.
But checking the BBC's football homepage on my mobile phone, you wouldn't know who'd actually won.
Middlesbrough 2-2 Bristol C (aet)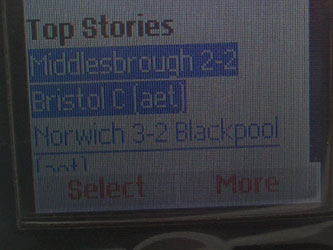 So, to find out who actually came out on top and went through, you need to follow the link.
Of course, on the web, this is trivial.
On the phone however, it means downloading a new page, downloading more data, and costs me more money. All of which could be avoided if the BBC would just follow the Championship Manager scoring display convention of matches going to penalties, and put a little 'p' next to the team who have been victorious:
Middlesbrough 2p-2 Bristol C (aet)