Investigating the history of witches in Salzburg
Unlike the behemoth of the BBC, I seldom take the opportunity to cross-post to or cross-promote the blogs I contribute to, but I wanted to make an exception this week. Those of you who ever followed the posts on here about the ghost walks that I use to do in London, and in one case in Haunted Malta, with my wife, might be interested in a series of posts she has published this week on 'A lemon tree of our own' (or 'Some edelweiss of our own' as it has been known during our sojourn in Austria).
She's been investigating a mysterious photo of an old building in Salzburg with a sign depicting a witch above it.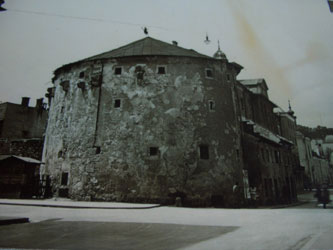 It turns out that the building, which survived until the 1940s, was a Hexenturm, or Witch Tower, where witches were imprisoned, tortured, and worse. Her journey led her to discover a witch tower enthusiast in a nearby book shop, and to find out about the notorious Zauberjäeckl trials. Her witch discovery trail begins in the laundry on Paris-Lodron Street in Salzburg.