"Has Britain gone to the dogs?" - The Daily Express certainly hopes their readers think so
"Has Britain gone to the dogs?"
I ask the question because there are a variety of ways that the British press and news services online try and entice their users into debate.
The Mirror's redesign has added links to 'Digg this' and 'del.icio.us' on some of their stories, but their blog content is where they seem to restrict their user comments to. The Sun, meanwhile, has buttons underneath headlines asking readers to "Add comment" or "Join Discussion".

The new Times site might have bizarre CSS, but it does offer comments on stories, inviting readers with a "Have Your Say", triggered at the bottom of stories with a little bit of DHTML goodness.

"Have Your Say" (or "Don't Have Your Say" as it is called by people who believe the BBC censors user comment to push its own political agenda) is also the way the BBC invites people to discuss news stories. They usually set the debate up with an opening brief of "Such-and-such happened in the news. Do you think it is because of x? Or did you ever experience y?"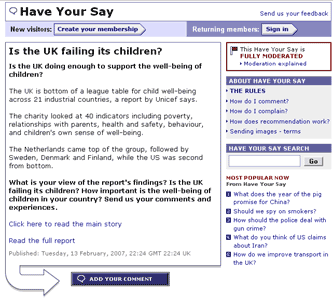 The Daily Mail has gone big with user-generated comment, flagging the number of comments up under the headline, and inviting people to contribute with a "34 people have commented on this story so far. Tell us what you think below" prompt at the bottom of most stories.

The Guardian and The Telegraph have also invested in their blogs and user-generated comments, to the extent that when they haven't been bitching about what constitutes a blog, they've been bitching about their respective traffic levels.
And then there is The Daily Express.
It may not say it on the actual page, but the HTML title tag of their online presence still proclaims:
"Daily Express: The World's Greatest Newspaper"

They have a singular style of call to action for their readers to comment online.
Take a story about NHS dentists - "What do YOU think? Is NHS dentistry a joke? Comment NOW at Have Your Say".
Or a story about house prices rising - "What do YOU think? Does stamp duty need to be reformed to help first-time buyers? Comment NOW at Have Your Say."
So seeing as how they like to link the call to action with their editorial line, my favourite from last week was the call to action that went with a story about how out of all of the hundreds of thousands of road signs in the whole of the UK, one local council had erected 8 road-work diversion signs in Polish:
"What do YOU think? Has Britain gone to the dogs?"