Buy the so-called "Complete" Depeche Mode iTunes box set? No thanks, Apple
Just before Christmas one of my favourite bands, Depeche Mode, released a digital box-set via iTunes - "The Complete Depeche Mode". Even in an industry not known for always putting the customer first, the audacity of the release is breath-taking. Costing £139.99, the set features 644 downloads, of which 59 are exclusive to the box-set.
And of course, the tracks that are 'exclusive' to the set are also exclusively available using Apple's proprietary DRM format.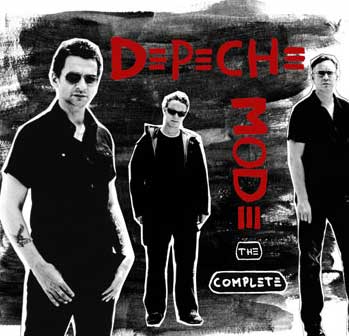 The exclusive content, which consists of some remixes, rehearsal versions and new acoustic recordings of old songs, are the only things not available to buy on a single track basis - so fans who have already purchased or own the entire Depeche Mode back catalogue have to buy and download the other 585 tracks over and again in order to get at the 'new' goodies.
The response in the reviews over on iTunes have been at best lukewarm, and at worst hostile.
"I can't belive how Depeche Mode and Mute Records allow this!

This is a disgrace and they are just laughing at the fans.

Most Depeche Mode fans will have all of the physical formats already and this 'complete' digital box is a total ripoff trying to get the fans to buy endless numbers of tracks that they already own so as to be able to own the 'few' tracks that are classed as 'album only'"
"I have spent 100s and 100s of pounds on these guys over the years and now I gotta pay that to hear four songs I have never heard before?"
"I don't have all the rare remixes/promos - and these are mainly the ones you can't individually download...shame on you. Although I love DM, I don't want to fork out over one hundred quid for three quarters of the tracks I have anyway"
When bands were releasing physical box-sets of their material, it was a tacit understanding between consumer and producer that if you had an overview of a band's recording history with some unreleased material you knew you were going to get some stuff you already owned, and that was reflected in the price-point being less than the retail value of an individually priced CD e.g. 3 CD sets retailing for around 20-25 pounds, 4 CD sets for 30 to 45 pounds etc.
However, with digital distribution, there is no reason why Mute, Depeche Mode and Apple have to stick to this pricing model, and could not have released a bundle of the 59 exclusive tracks for their combined individual cost - or even for £60 or £65 with a bit of mark-up, rather than insisting that fans shell out the extra to get the rest of the material they already own. If you buy the 'complete' set just to get hold of the exclusives, the tracks are retailing at an equivalent of £2.37 each.

And that is before you take the product to task on the "complete" label applied to it. On the content side of things, whilst it is almost comprehensive it still doesn't have everything. To promote their recent single 'Martyr', Depeche Mode issued a promo only CD which included some new remixes of old tracks by artists such as Timo Maas and Underground Resistance. This CD has been selling for 60 to 70 pounds on eBay, and according to one post on the Mute message boards, one copy raised £390. Are those 8 remixes included in "The Complete Depeche Mode" from iTunes? No.
And some of the material marked as 'exclusive' actually isn't - I already have the acoustic versions of "Waiting For The Night To Fall" and "Nothing's Impossible" on my iPod, after converting them to mp3 from the original DVD format they were released on last year.
The band are also in the middle of re-issuing their back catalogue in new dual CD/DVD formats, which include remastered versions of the original albums, plus DVD documentaries about the making of the album and other bonus material. They are yet to complete the series, with two albums - "Construction Time Again" and "Black Celebration" awaiting their re-release in March. So the "Complete" Depeche Mode doesn't feature the remastered versions of those albums, and nor, despite the iTune store's video capability, does it offer the DVD content associated with any of the so far released remastered albums.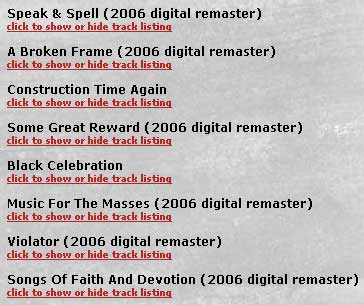 So in the end, like many fans who have reviewed the set over at iTunes, I have to give the box set 10/10 for the music, and 1/10 for the value for money. I'll pass thanks.
And don't even get me started on how their reissue programme for 2007 includes a 'remastered' version of the "Exciter" album from 2001. Erm, guys, are you seriously telling me as a consumer that 6 years ago you were not able to master their album releases properly, to the extent that I now need to buy it again to hear it properly?
the views expressed on currybetdotnet are my own, and do not reflect the views of my current or former employers.