Arsenal forced to ban all national flags over Cypriot dispute
I wrote at the beginning of the month about the dispute at Arsenal caused by the repeated flying of the unrecognised 'Turkish Republic of Northern Cyprus' flag by Mete Ahmed within their new Emirates stadium.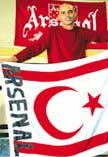 At the time, Arsenal had considered that since it was not specifically against the law to fly the flag within the UK, they would be taking no action over it. However, pressure from the Greek Cypriot community appears to have swayed the clubs opinion.
In a move which seems yet to make the mainstream media in the UK, although it is, of course, being reported in Cyprus, and there is a thread on 606 about it, the club on Saturday announced the banning of all national flags and nationalist emblems from the stadium.
Club statement - National flags at Emirates Stadium

Some of our fans have been upset with the flying of certain flags denoting particular regions of the world

Arsenal as a club prides itself on being inclusive with respect to all nationalities, cultural and ethnic groups.

We have therefore decided that in order for all of our fans to enjoy their experience at Emirates Stadium, we are asking that only flags in support of Arsenal Football Club, without any national emblems, are displayed within the stadium.

We will be implementing this policy with immediate effect. Thank you for your assistance in this matter.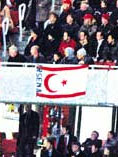 I suspect that once the tabloid sports media realises that this also covers flying the Union Jack or flag of Saint George, and is going to equally apply to away supporters, we will be hearing a lot more about this - and like several times already in the 606 thread, I reckon the phrase "political correctness gone mad" is going to crop up.