Living in an almost-always-off world
I'd like to think that if I've learned one thing from living in a house without an internet connection, it is that in the future any application designs I work upon will be more graceful about being offline than the set currently installed on my laptop.
The thing that most grates is the way that going online alters the state of my laptop, as applications silently phone home and reconfigure themsleves, and then gripe at me when they can't get their internet fix next time I re-start the laptop at home.
On Sunday it was a mix of googletalk.exe. and Norton Internet Security. Googletalk.exe was attempting to connect to a DNS server. It can't. I'm not online at home. Norton Internet Security threw a hissy fit and told me about it Googletalks.exe's internet ambitions. I told Norton Internet Security that it was OK to 'Always allow connections from this program on all ports (Recommended)'.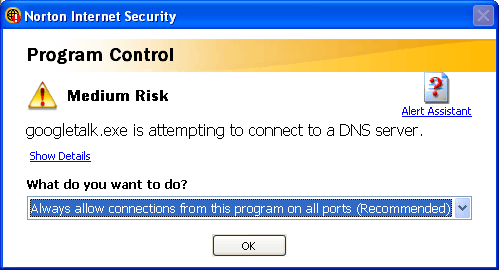 Which ought to have been the end of it. Having Google Talk start-up when I boot up my laptop offline has never been a problem before.
Except that one of either Norton Internet Security or goolgetalk.exe can't get peace without going online, so I couldn't stop the message repeatedly popping up with no cancel option, except by using Task Manager to shut both programs down.
And they were both playing so nicely before...