I've been testing online RSS aggregators, to see if any of the services out there are able to tempt me away from Bloglines. So far I have had a look at FeedLounge, and Rojo. Next on my radar is the Google Reader.
Technically it still claims to be a beta service, but then, so do products like Google News and Google Mail which have been "in beta" for some considerable time. When I first logged into the service using my Google Mail account details I found that it had remembered me from when I had first had a play around with the service, and had been faithfully aggregating my feeds, unlooked upon ever since. So, bonus points to Google Reader for the persistence of memory and account status.
The Google Reader interface uses AJAX to provide a seamless reading experience, so unlike Rojo or Bloglines there are no page or frame reloads. Moving up and down the feed entries triggers a swish animation as each entry comes into the main viewport. However, the animation isn't enough to escape from the fact that the interface is very clunky. Google's in-house style of large font sizes, large areas of white-space and thick bands of the Google logo colours just doesn't work aesthetically in this design for me. In fact, I think, as FeedLounge and Rojo demonstrate, the success of an online feed reader comes with cramming as much information into the viewport as possible, not minimising the amount of data on display.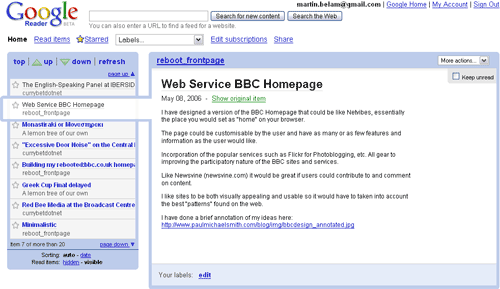 I was pleased that electing to open the original item triggered it in a new window or tab, but the main thing missing for me is that there doesn't seem to be any overall view of the feeds you are subscribed to. When you initially request a feed, you get a view of just that feed, but in the main viewing mode the feed entries appear in a jumbled-up order. That is no good for me, because sometimes with only a limited amount of time I just particularly want to check up on the latest news from one of my feeds or folders.
I also found that Google Reader's autodiscovery skills were not always so hot - it couldn't detect the Atom feed belonging to Diamond Geezer, even though it is published via Google's own Blogger service and the feed is linked to in the HTML of Diamond Geezer's homepage.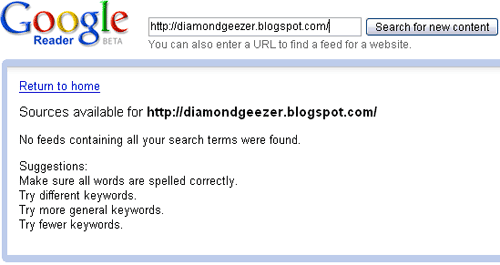 Tomorrow I'll be looking at some other aspects of the Google Reader service including the way it allows you to search for new content you might want to subscribe to.