Most Haunted Live at Tower Bridge
So I'm currently watching Living TV's "Most Haunted Live", hoping for a glimpse of my wife in the background. Tonight's show is from her place of work, and one of her duties is being the film officer. This means she has to accompany crews around the building, checking they stay safe and keep to the terms of their contract. Which for Most Haunted means spending the evening lurking around in the dark hoping to hear strange noises. Staff there don't generally believe the building is haunted, although she did experience a couple of odd things when they were doing the initial recce to scope out the location, and visited some seldom used areas.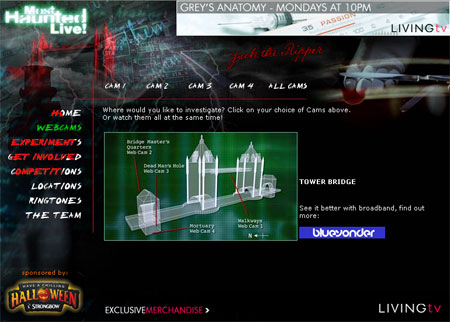 The wife has been really looking forward to it, it is the equivalent for her of someone telling me they were going to be filming Doctor Who in my bedroom.
Sadly though the gloss has been taken off of it a bit for her. Today The Mirror ran a story quoting one of the team, Ciaran O'Keeffe, exposing the extent to which the team allegedly manipulate the footage, use information supplied to them in secret, are less than honest about their locations, and generally use the "magic" of the idiot lantern to make things a lot more mysterious than they actually are.
Ciaran says: "Derek must have had prior knowledge of the locations."

He devised a plan to see if Derek was deliberately deceiving the public.

While on a shoot at Bodmin gaol he invented a long-dead South African jailer called Kreed Kafer - an anagram of Derek Faker.

"I wrote the name down and asked another member of the crew to mention it to Derek before filming.

"I honestly didn't think Derek would take the bait. But during the filming he actually got possessed by my fictional character!"

On the next shoot at Prideaux Place, Cornwall, Ciaran made up another fictional character, highwayman Rik Eedles - an anagram of Derek Lies. Sure enough, Derek made contact with the dead outlaw.

Ciaran says: "In my professional opinion we're not dealing with a genuine medium.

"When Derek is possessed he is doing it consciously - all we are seeing is showmanship and dramatics."

Ciaran went a step further at Craigievar Castle, near Aberdeen.

"I made up stories about Richard the Lionheart, a witch, and Richard's apparition appearing to walk through a wardrobe - the lion, the witch and the wardrobe!" True to form, Derek mentioned all Ciaran's stories - even though Richard I reigned 500 years BEFORE Craigievar Castle was built."