I've mentioned before that at Christmas I bought my wife a book called "Walking Haunted London" by Richard Jones, hoping we could learn more about London, and maybe capture a spooky experience at the same time. It also turns out most of the haunted locations in London are pubs that serve food, so it is quite a pleasant way to spend a Sunday afternoon in my book.
Our first trip was to Hampstead, and this weekend, although we are not strictly doing the walks in alphabetical order, we went to Highgate.
The first item on the agenda wasn't really haunted - although there are tales of ghost trains - but tapped into one of my other interests. It was Highgate High Level Station. This carried a line from Finsbury Park to Alexandra Palace, and it was planned for it to be electrified and taken over by London Underground to form part of the Northern Line in the thirties. The Second World War intervened, the project was cancelled, and steam services struggled on into the sixties until the line closed. Much of the station infrastructure still survives, although the tracks have long since been ripped up, the tunnel entrances closed, and nature has overgrown.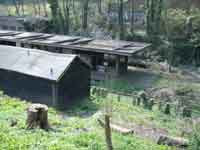 The walk then took us, via a detour to where Peter Sellers once lived, to The Gatehouse pub. This was a pleasant enough pub, but hardly had the ambience of somewhere haunted. Despite the outside appearance, the inside has been thoroughly Wetherspoonerised. Now, rabid euroscepticism aside, there is nothing wrong with a Wetherspoon pub, you know exactly what you are going to get. Its just a shame that such a distinctive building had been McPubbed inside.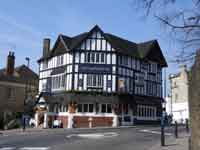 The bulk of the trip was made up though of a guided tour of Highgate Cemetery. These tours are carried out by the Friends of Highgate Cemetery, who were as welcoming in the flesh as they are on the web - the first thing that happens when you visit the site is a javascript driven pop-up informing you that:
This is the only official website relating to Highgate Cemetery.
This website is owned and managed by the Friends of Highgate Cemetery Limited on behalf of Highgate Cemetery Limited.
Charity Number : 1058392
The entrance is policed rigourously, no phones, no bags, no coats. It is an additional £1 for a camera permit, and purchasing one is met with disdain. When the person in front of me said they didn't have a camera our host said "Good. People pay more attention when they don't have a camera". Very welcoming. The tours are held hourly on the weekends, and once a day during the week.
Once we were past the desk sergeant, we had a lovely guy taking us round. It is a fascinating place, seemingly in disrepair, but actually carefully maintaining the balance between being a working cemetery, a study in the Victorian way of death, a nature reserve and a site of special scientific interest.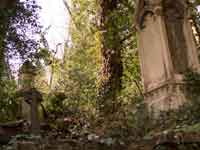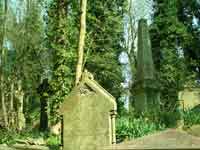 Nothing spooky or out of the ordinary happened to us at all, until the point when our guide collapsed. It wasn't supernatural, it was genuinely worrying. After a while he recovered and then continued with the tour as if nothing had happened. After two more similar incidents we eventually got him to lie down, and helped lift his legs up to restore the circulation to his head.
There was something typically British about the fact that everybody apart from my wife and I and three Austrian tourists just stood around politely not knowing what to do. We sent someone down to fetch help (because the cemetery is quite a large place on a fairly steep hillside). When someone from the Friends of Highgate Cemetery returned, their chief worry was whether we were going to get the rest of our tour, not the health of poor old Ken, which seemed like an after-thought. I ran down to where we had left our coats to fetch some water. By the time I had got back they were going to bring a car through to pick up Ken. Again the guides then tried to get us to continue the tour and leave Ken lying on the ground on his own. Utterly bizarre. I couldn't tell if they were more concerned that we didn't get the full value for our £3, or whether they thought we would take advantage of being unsupervised to do "bad stuff" or go off-piste. Suffice it to say that despite the desk sergeant's haranguing on the way out we didn't give the recommended additional £2 voluntary donation.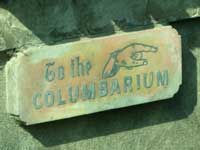 The walk was due to finish at a pub called The Flask, which looked lovely. Unfortunately, being the first hot Sunday of the year the world and his wife had decided to head there for a pub lunch. The queue for a drink at the tiny little bar was around 15 deep, so we sacked it and headed home.