The first day at the Broadcast Centre
So today was my first day in my new office home, the Broadcast Centre within the BBC's White City complex.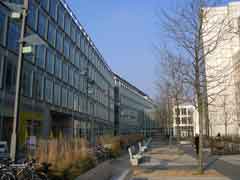 The building, despite having some snagging left to do, is great. I just wish it was nearer home. The meeting room closest to me has been named after Alan Turing, and I certainly can't complain about that. It was a strange day altogether though - it wasn't just the first day in the new building. By chance (perhaps) it was also the first day at work after losing a great producer from my team to another company, and losing a great editor to Radio 4 for a few months.




Outside the building are two water features - black plinthes that host a shallow pool of water that drains noisily off the sides. I don't think we've had any Diana Memorial Fountain style disasters yet, but it ocurred to me that if you had a particularly delayed journey to work and arrived in dire need of our unisex toilet facilities, having your walk into the building accompanied by the constant sound of gushing water may not turn out to be ideal.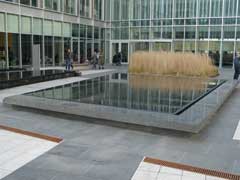 I think I've been quite lucky with the location of my desk in the whole scheme of things. From where I am sitting I can see the arch of the new Wembley stadium rising across the sky, and have a great view over West London. One of my colleagues borrowed my camera and took a great picture of the sun setting behind us.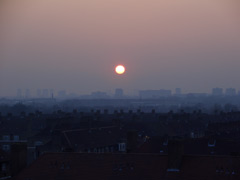 I'm sure I can get used to it - even if I can't get used to the price of the beer in the wine bar below us.