Reclaim Our Cinema - the EMD Cinema in Walthamstow gets an unofficial refurbishment
It is now around a year since the EMD cinema in Walthamstow shut - and at the time it made E17 the only London borough without a cinema. It was purchased with the intention of converting it into a church, but thankfully planning permission was refused. However, it is now a Grade II listed building being left to rot.
There is a campaign website to reclaim our cinema, and it has recently been unofficially refurbished.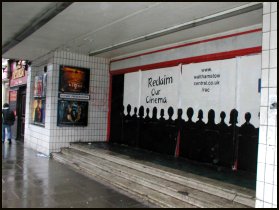 There is also a protest poster to print out