Sea Lions and Dolphins trained for war
It it just before 2am in the UK and BBC News 24 is rebroadcasting U.S. ABC News. The last news item is how sea lions trained by the US Navy are better than dolphins trained by the US Navy because dolphins get drowsy in the Persian Gulf heat, and the sea lions can pursue their enemy prey on foot/flipper. Is this really happening?
Addenda:
There are BBC News stories about this from March 27th: Dolphins clear mines the natural way and March 11th: Let slip the sea lions of war
And some other coverage at ifyoudive.com, the CBBC version and the Ananova version. And it isn't new, it was apparently happening throughout the cold war, according to ukdiving.co.uk. But groups like PETA rightly would like to see it stop.
And today [25th March] this picture of one of the dolphins in action in the gulf apparently came through the news wires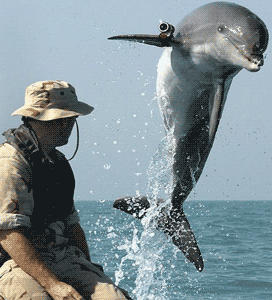 This post has proved very popular with search engines and quality comments - I've written about how I became the worlds #1 resource on combat-trained sea mammals