Guardian & Observer NUJ debate on the nature and future of journalism

by
Martin Belam
, 16 May 2012
This evening at the Guardian's offices the Guardian & Observer Chapel of the NUJ have been holding a debate about the nature and future of journalism. There have been posters around the offices for a couple of days.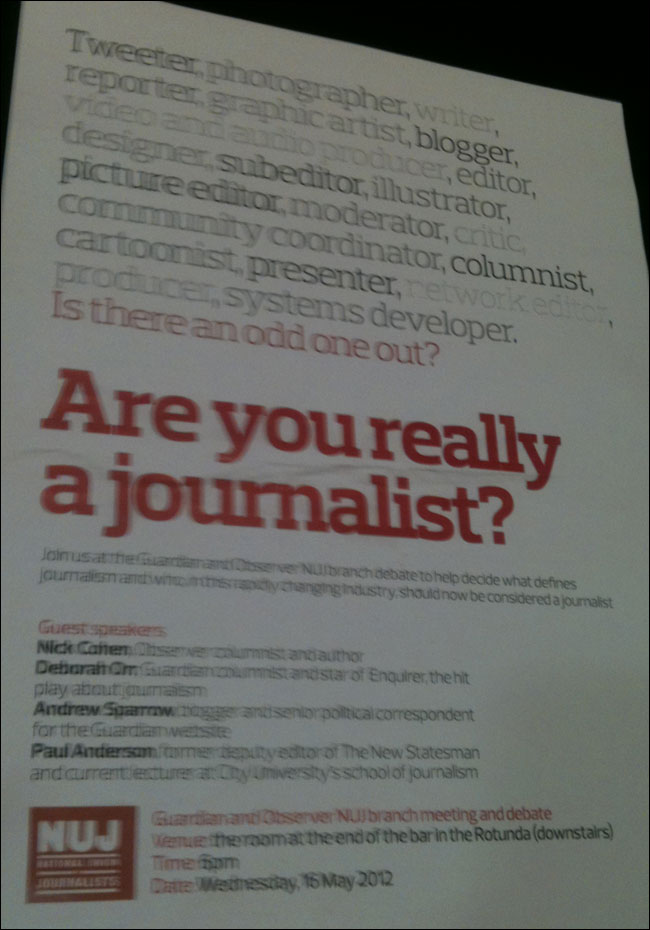 The job titles, tasks and skills that the poster lists are: Tweeter, photographer, writer, reporter, graphic artist, blogger, video and audio producer, editor, designer, subeditor, illustrator, picture editor, moderator, critic, community coordinator, columnist, cartoonist, presenter, network editor, producer and systems developer. There is no mention of "Lead User Experience & Information Architect", but then my job title is so long it would have filled up half the poster anyway.
It was a real shame that I wasn't able to go to the event - not least of which because of being one of the kind of people that sparks this kind of debate. If I had gone, I would almost certainly have taken meticulous notes, and then posted a pretty straight-up report with a tiny bit of editorialising, as I've done for many events over the years, including people like Andrew Sparrow, Paul Lewis and Matt Wells talking about their work at the Guardian.
It certainly looks like reporting, but I'm not a journalist by profession. I'm very explicit about the principles under which I blog - you can read them here - and I don't think there is anything at all that would look out of place if you were trying to write the ethics and standards you'd expect of a professional. But "journalism" isn't the primary thing that I do, even if I sometimes stray into it.
The NUJ chapel have joined Twitter - you can follow them at @go_NUJ - and were tweeting from the event. You can get a flavour of the event in this Storify I've built.
I'm really heartened to see the NUJ engaging in debate in this way, and I hope I'll be able to make the next one.