"Digital memorials for mass graves" - Jim Kosem at London IA
Last week we had the last London IA night of the year, as ever in the Sense Loft and kindly sponsored by Zebra People. Joe Muggs and Jim Kosem were speaking. Yesterday I blogged Joe's talk. Today, here are my notes from Jim's rather harrowing tale of designing digital monuments for mass graves.
Jim Kosem
Jim Kosem was talking about a project called Spomenik. He explained that for a year-and-a-half of his life he had "tried to make history livable." Jim said that as designers we obsess over the future (who, moi?), but he wanted to see if he could use digital design to create an understanding of the past and of history.
When thinking about designing a digital monument, Jim explained that your main competition was basically big lumps of concrete that tended to last for hundreds of years. That is quite some competition for software, he argued. We really don't have a good track record of software ageing.
The project Jim mostly talked about was about the mass graves in Slovenia. Jim explained that at the conclusion of World War II, there had been an incredible number of massacres. There are around 600 mass graves in a small country. This is literally, he said, something that is in everybody's backyard. It was also, for many years, something that nobody discussed.
Jim Kosem said that when you are involved in a design process where you are trying to decide whether to call something "genocide" or merely downgrade it to "crimes against humanity", your usual design language for talking to software engineers kind of goes out of the window. In the end, he explained, you come back to having data - talking about data and places.
However, he thinks that placing red dots on a map is not a helpful way of exploring this kind of dataset. You end up facilitating all sorts of arguments about whether this side or that side got killed more or did more of the killing. They wanted to recapture the human element of the story - especially as when they had asked veterans and survivors of the conflicts what they should do, they had been urged to build something to explain it to younger generations.
Jim's team played not just with the idea of mapping data, but with the idea of an augmented reality app. When you pointed it at empty houses in a village, it would tell you who had been there and which mass grave they were believed to have ended up in. This turned out to be really unsatisfactory, as Jim felt that putting the device between you and the thing you were looking at meant you weren't really looking at the thing anymore. Rather like those odd people who film a concert they are attending instead of watching the concert they are attending.
Something struck Jim when he was doing a smartphone tour of the Tower of London. The 3G kept cutting out, and the GPS was unreliable, and he wondered that if it was this hard to get to work in central London, how the hell was it going to work in some woods in the backwaters of Slovenia?
The answer was to go lo-fi. The pilot project was in Kočevski Rog, and a group of schoolkids were taken out to the location of a massacre, and told to dial a phone number. A narrator then took them on a tour of the location, telling the story of one of only a handful of survivors of the atrocity there. Jim said that he had worked with teenagers before, and had basically expected them to be "having a joke and texting their girlfriends", but it was profoundly affecting for them. One kid said "worse than this happening was the fact that nobody told us."
Jim thought the design was successful because it tapped into two personal areas - the phones that we always keeps so close to us, and the sound of the human voice. When you want to find out something, he said, you call someone.
It was one of the most difficult subjects that a talk at London IA has ever tackled, and you could feel the effect on the atmosphere in the room. Jim said it was hard to talk about these things, but actually, in the end, the discussion after the talk was one of the longest that I can remember.
Next...
The next London IA will be on 18 January 2012.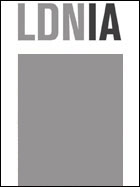 "London IA: Notes from the talks"
Martin Belam, foreword by Ann McMeekin Carrier
London IA is a network of designers, information architects and thinkers. Since 2009 the group has been holding regular meetings featuring talks about UX, or of interest to UXers. This ebook is a compilation of my notes from those evenings, featuring talks by Andy Budd, Giles Colborne, Cennydd Bowles, Claire Rowland, Jason Mesut, Ben Bashford, Chris Heathcote, Dan Lockton, Relly Annett-Baker, Michael Blastland, Margaret Hanley and Richard Rutter amongst others. Topics covered range from ubicomp to psychology, from learning how to sketchnote to how to write a UX book, and how to improve digital design through diverse routes like copy-writing, designing for doubt, learning from music technology or taking care of typography.
"London IA: Notes from the talks" is available for Kindle for £2.47.