Currybetdotnet recent comments round-up 2009-02-26

by
Martin Belam
, 26 February 2009
This is one of an occasional series where I round up some of the interesting comments that have been left on the blog over the previous few weeks. You can find earlier examples from August, September and October of last year.
The PCC, the Daily Mail, and "the slut"
A couple of useful points were raised in the comments on my piece about the 13 year old girl that the Mail allowed their readers to label a 'slut'.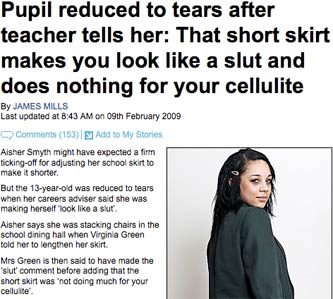 Rav Casley Gera commented that:
"The fact that the girl was clearly very happy for the story to be told is presumably relevant?"
"Surprised at the PCC clause you highlight, when there would be an even more transparent breach of 6ii: "A child under 16 must not be interviewed or photographed on issues involving their own or another child's welfare unless a custodial parent or similarly responsible adult consents". The Mail may do lots of bad things, but I'd be amazed if they would allow such a transparent breach, which makes me think her mum - who is quoted - consented."
My argument here is that even if the family consented to press coverage, had they consented to the article then being open to members of the public calling the 13 year old a slut on the Mail's online version of the story? Why, unlike with an advert or a television or radio programme, am I not allowed to make a complaint to the PCC that this is in poor taste and might be harmful to the child, simply because I am not directly involved?
Links to my article got passed around on Twitter, and Sunday Times columnist India Knight, a recent Twitter convert, made use of the story in her column. She said:
"Belam wrote to the Press Complaints Commission, quoting clause 6 of its code of conduct, namely that 'young people should be free to complete their time at school without unnecessary intrusion'. It brushed Belam off because a child being called a slut by a load of adult strangers didn't personally affect him."
It might not have affected me directly, and her mum might have signed some legal papers, but that doesn't make it right.
It is only one Point of View
There was quite a bit of reaction to my posts about the BBC's Points Of View messageboard as well, both here and on the boards themselves.
I'd asked what bbc.co.uk could offer that Digital Spy of UK Nova currently didn't, and LondonLady reminded me that:
"Many organisations restrict the websites that their employees can reach from work, presumably to stop people from hanging out on the web when they're supposed to be working. However, quite a few workplaces allow access to bbc.co.uk, presumably because they feel that it's a safe site and it allows their employees to access useful news and weather updates. Many organisations are probably unaware that the BBC have message boards and public discussion areas on bbc.co.uk and have no idea that their employees spend large chunks of their workday chatting online via the BBC."
Nick Reynolds, the BBC Internet Blog's editor who is embroiled in the ongoing discussion over the future of the board also left a comment:
"The thing that baffles me most is why someone would take so much offence at simply being asked to click on a link to somewhere where something they are interested in is being discussed."
Mostly though, POV posters were unhappy that I had estimated there to be only '50 or so regular users':
martin your last response shows you up as a bit of a ..well i cant use words like prat can i...oh well you made them up..dreadful...but rather than admit a serious error of judgement you post some middle management jargon...sad response sad article..but at least you can say youve been published.
Greenslade touches a nerve
Roy Greenslade upset a lot of people in the news industry by suggesting that the end of the era of the sub-editor was near. I added my tuppence to the debate, and one sub-editor, Julian Richards, left a comment:
"I'm a sub myself, and I'm constantly surprised by how little our colleagues understand of what we do. It's not just about spelling, or grammar, or fact-checking - though, believe me, there are precious few writers around who are competent at those things. It's often more generally about making something bad - cliche-written, poorly explained, verbose - into something good. It's also about asking writers to explain what they mean when they write things that are ambiguous or plain incomprehensible. This requires tact, and it helps to have worked with the writer for a while."
There are also lots of great comments on the Press Gazette report of Greenslade's comments, and on his Guardian blog, where some of his rather unimpressed colleagues got to have their say.
Searching for the truth about The Express
At the weekend I wrote about Madeleine McCann's position as the top search term on the Daily Express website having lasted for an entire year. Matthew Mayer asked:
"Is it possible that rather than being editorially chosen, the links are "self-fulfilling"... ie, by clicking on any of the results, a new search is generated. Its therefore very hard for a new search term to break into the top 10"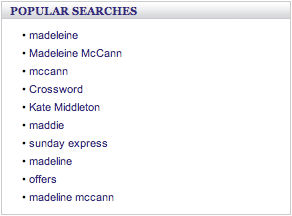 As I replied: "I'm sure it is possible, but it doesn't seem very likely. The top search list only appears on the search results page, and so the chances are that the majority of searchers enter their terms from the home page or an article page, not as a second search having seen the list. It seems incredible to me that terms like Olympics, Obama, credit crunch, recession, Brand and Ross, and baby p were not searched for more on the Express site than 'offers' and 'Kate Middleton'".
However, there was also an anonymous tip-off suggesting:
"Of course you'd have to ask yourself why, if it is editorially driven, these results would show items such as 'Crossword' which really wouldn't do it much good, given it's essentially off site content. Perhaps it's more possible than you'd think, that these are in fact genuine results."
Attack of the SEO Zombies
Despite saying that I wouldn't be publishing any more comments on my post about promoting blog comments, legions of SEO Zombies are still sending me comments like 'Your blog totally rocks' and signing them Smallville Real Estate For All Your Smallville Real Estate Needs.
Seriously, this is the kind of nonsense that gets submitted to that post by these time-sucking numpties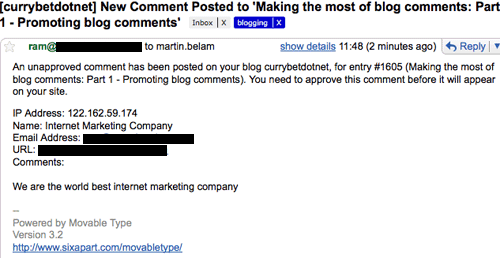 Lee Roper shows how it should be done. He has left a couple of lengthy well thought-out on-topic comments on the site. He hasn't keyword spammed me, and he even emailed me as well to check what he was doing was ok. It is a win-win situation - he gets a dofollow link from a blog with a little bit of GoogleJuice, and I get some extra content.
The last word...
I thought for this round-up of comments I'd give the last word to my friend Frankie Roberto, who had this to say about my 'Wireframing the front page' blog posts:
"Man, this series is mind-numbingly tedious!"