Local social: Social bookmarking links in the UK's top regional papers - Part 1

by
Martin Belam
, 17 December 2008
I've been turning my attention to the online presence of the UK's leading regional papers. So far I've looked at their provision of RSS feeds, Google subscriber take-up, and I've looked at the online video features they offer. Today I want to look at an area which can be seen as a barometer of how closely a site has been paying attention to fashionable online developments - the provision of links to social bookmarking sites.

Manchester Evening News
Of all the papers that I've been looking at, the Manchester Evening News had the widest range of services that users could directly access. Initially hidden behind a link saying 'Share this article' with an email icon, a panel unfolds to reveal links to 12 different bookmarking services. In my sample of twenty newspaper sites, the Manchester Evening News was the only one to link to Ma.gnolia, Netscape, Technorati and Yahoo! MyWeb. Additionally there were links to Delicious, Digg, Facebook, Google Bookmarks, Newsvine, Reddit, StumbleUpon and Windows Live Bookmarks.

Aberdeen Press & Journal
Aberdeen Evening Express
The other papers to use a expanding 'share this' type approach were the Aberdeen Press & Journal and Aberdeen Evening Express. These sister papers both use an 'AddThis' widget at the foot of articles to link to, initially, 7 services: Delicious, Digg, Facebook, Google Bookmarks, MySpace, Windows Live Bookmarks and Yahoo! Buzz. More are available by expanding the panel.

Birmingham Mail
Liverpool Echo
Newcastle-Upon-Tyne Evening Chronicle
Teesside Evening Gazette
So far in my look at regional press I've not tended to lump together all of the sites from one publisher. In part this is because we keep being told so much about the unique character that local newspaper publishing has, and the close and vital relationship the papers have with their audience and local area. I wanted to make sure, therefore, that I didn't miss any customisation that had taken place on any of the 20 sites.
With social media links, however, I've found that the format appears to be standard across a group's sites, and so I have banded them together in this article. The Birmingham Mail, Liverpool Echo, Newcastle-Upon-Tyne Evening Chronicle and Teesside Evening Gazette are a case in point.
All of these sites feature links to Delicious, Digg, StumbleUpon and Newsvine at the foot of an article. The links pictured below are from the Birmingham Mail.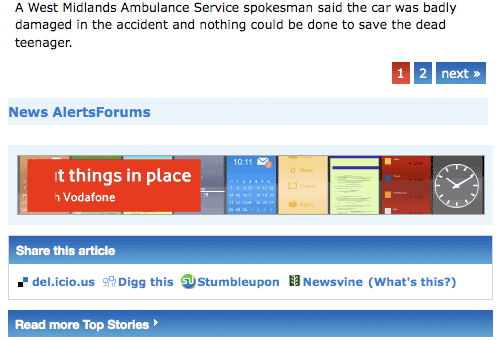 One thing that interests me is that there is also a 'tools' panel to the top-right of each story on these sites, and the social bookmarking options do not feature here.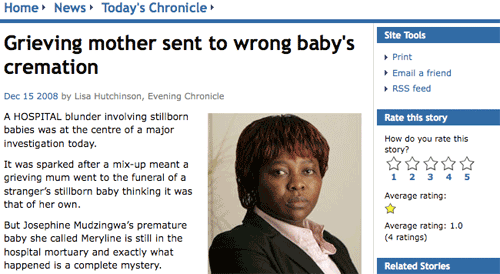 Yorkshire Evening Post
Portsmouth News & Sports Mail
The Yorkshire Evening Post and the Portsmouth News & Sport sites both hail from the Johnston Press Digital Publishing stable. In terms of social bookmarking buttons, they distinguish themselves by using some very large icons indeed.

Most news sites use 16x16 pixel icons for social bookmarking and occasionally push the boat out with 24x24 sized icons. On these regional newspaper sites we see full logos, which, in the case of Facebook, come out at 65x25 pixels.
The selection of sites linked to is Delicious, Digg, Facebook, Reddit and StumbleUpon.
Norwich Eastern Daily Press
The Norwich Eastern Daily Press site - EDP24 - includes links to 5 social bookmarking services at the foot of each article. These are labeled 'Post this story', and the links are for Delicious, Digg, Facebook, Reddit and StumbleUpon.

Next...
Tomorrow I'll be looking at the provision of social bookmarking links on another ten of the UK's leading regional papers, and publishing a table showing exactly who links to which services.
Before that, you might want to cast your eye over this excellent piece of research by Louise Thomas. She has compared the social bookmarking buttons in use by both the UK's national and regional press, and her SlideShare presentation breaks the results down into a very detailed set of statistics.