Remembering the war at The Telegraph
I've been watching with interest the development of The Telegraph's war memories site at telegraph.co.uk/war. [1]

At first glance it seemed to be very similar to the BBC's People's War initiative from a few years back - a site that is now mothballed as a static archive on bbc.co.uk.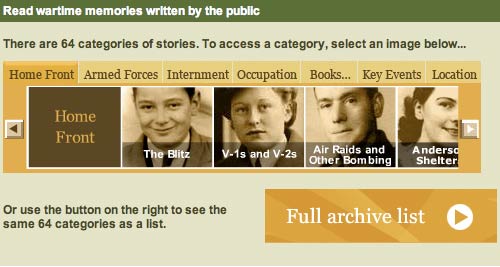 It might be interesting to look at the user contributions side-by-side and see if, as I suspect, The Telegraph has managed to capture some unique stories with a different demographic perspective from the BBC's project.
One major difference is that the BBC required elderly war veterans to get the hang of their single sign-on registration service and the complexities of posting stories using the DNA community platform. The Telegraph has opted to employ their comment system rather than the My Telegraph platform. This should really lower the digital barrier to entry.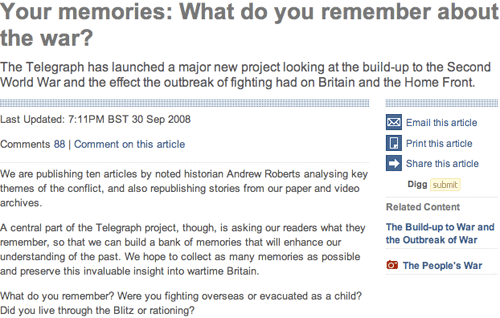 One thing that distinguishes the two projects is that alongside their reader's recollections of war, The Telegraph has been running articles both new and old. It is particularly good to see a digital representation of how The Telegraph was reporting the build-up to the Second World War - without exercising the benefit of hindsight.
'I believe it is peace for our time' - Oct 1, 1938
The Prime Minister was given one of the greatest ovations ever acorded to a British statesman when he arrived in London last night from Munich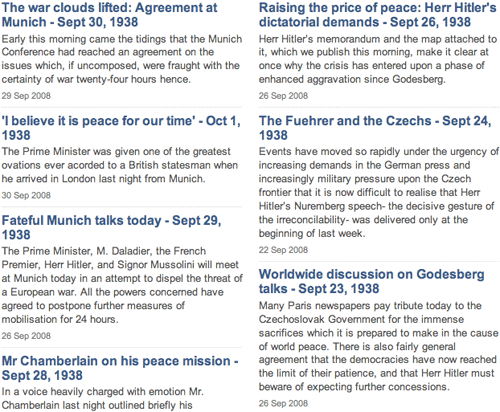 I had one user experience gripe. The articles from the 1930s are being published in a similar template to a current news story. That means they carry a great big strap-line suggesting they were last updated at the moment someone uploaded them to the present day CMS - not the date they were published.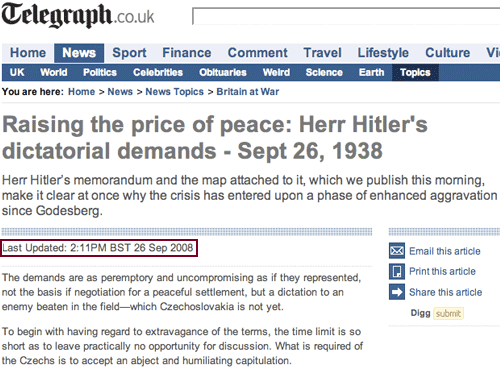 Telegraph TV is also accompanying the war reminiscence with video clips - and this is the kind of area where the BBC could really help the commercial sector out by opening up content. It would have been great, once the BBC's vast archives are digitised, for this kind of online content to include contextual clips of contemporary BBC broadcasts alongside the newsreel footage that the Telegraph has obtained.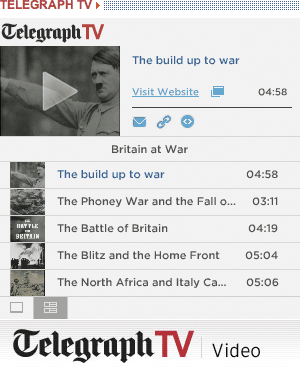 [1] Optimistically they are using the URL telegraph.co.uk/war, which I hope means that they are not expecting either the "War On Terror" or the financial doom surrounding us at the moment to turn into the definitive 'war' of the age. [Return to article]