Promotional Olympic leaflets in Macau

I was in Macau during the build-up and start of this year's Beijing Olympics, and, since it is one of China's "Special Administrative Regions", I really got a taste of what it was like to be in the host country.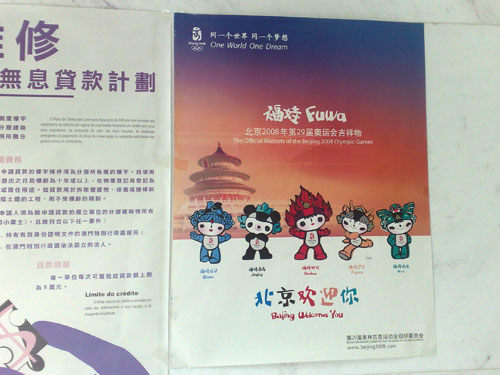 The British team stayed in Macau in the run-up to the Olympics, and we spotted quite a few people walking around with their Olympic accreditation badges and 'Team GB' shirts on. The reason they picked Macau was because it has a lot of sporting venues, since it hosted the 2005 East Asian Games and the 2007 Indoor Asian Games. Some of the venues are getting dwarfed by the new casinos though...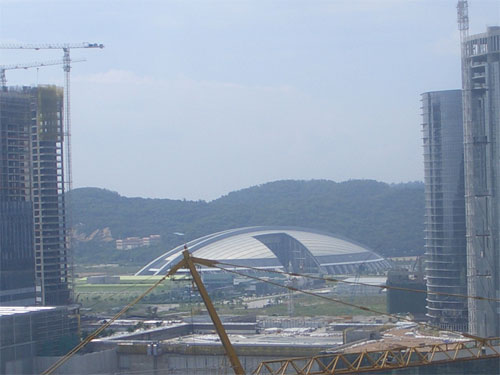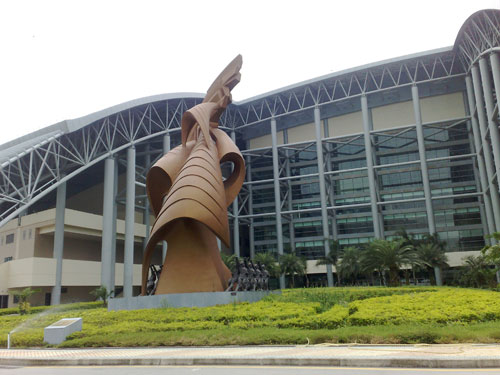 I picked up some of the Beijing Olympic Games promotional leaflets whilst I was there. There was a set of five, one for each colour of the Olympic Rings, which also came in a presentation pack.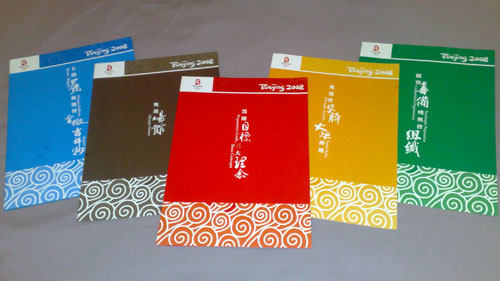 The five leaflets focussed on:
Blue: Theme Slogan, Olympic Emblem, Mascot
Black: Olympic Venues
Red: Preparatory Goals, Three Concepts
Yellow: Olympic medals, Torch Relay
Green: Competition Organization, Paralympic Preparation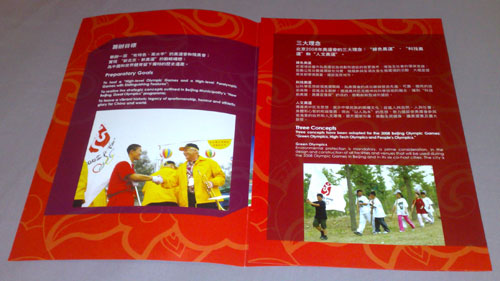 They are full of interesting facts and figures. Who knew, for example, that the concept behind the 2008 edition of the Paralympics was 'Concurrent Preparation, Equal Splendour', that the obverse side of the medals will be inlaid with jade, or that the unveiling of the Torch Relay route was attended by Luo Gan, a former member of the Standing Committee of the Political Bureau of the CPC Central Committee?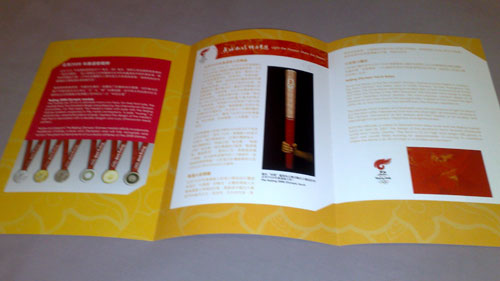 Reading the leaflets, I was ultimately struck by the thought that they may have been written by the same team that produce strategy documents for the BBC, since they were full of a lot of phraseology that could easily find its way into Private Eye's "Birtspeak" column...
"The mascot for the Beijing 2008 Paralympic Games is Fu Niu Lele. The design of Fu Niu Lele derives its inspiration from the farming cultivation culture of ancient Chinese civilization. The cow, symbolic of a down-to-earth, diligent, staunch and unyielding spirit, was used to portray the unremitting spirit of the athletes with a disability in being the best they can be. It dovetails with the upbeat spirit of Paralympians and concepts of 'Transcendence, Equality, Integration' of the Beijing Paralympic Games."