Introducing Olympic Chipwrapper

When a global sporting event like the Olympics comes around, you can be sure that there will be acres of coverage in the British media, even if public interest is dwindling. And for every newspaper contingent that is slimming down this time around, the BBC can be guaranteed to be sending a bigger team than Team GB itself.
If there is masses of coverage, you need something to guide you through it. That is where Olympic Chipwrapper comes in - with the usual mix of search engine, RSS feed and mobile phone service to keep you in touch with everything the British press are producing about the Beijing Games.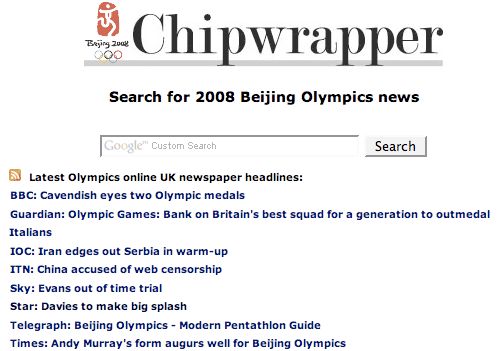 Olympic coverage custom search engine
The custom search will only return results from the Olympic coverage published online by the BBC, Express, Mail, Mirror, Guardian, Independent, Sun, Telegraph and Times. Each time I've produced a special sports edition of Chipwrapper (previously there was special coverage of the 2007 Rugby World Cup and Euro 2008) this has got easier. This is due to more and more newspapers moving to having a URL structure which either makes their navigational sections explicit, or includes a selection of relevant keywords.
Try a search for 'Tennis' for example, and you should see that the results are concentrated on coverage of the upcoming Olympic Tennis tournament, not just any old tennis stories.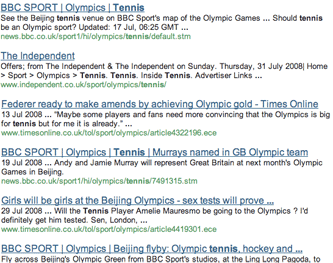 The Olympic Chipwrapper search is built using a Google Custom Search Engine.
Olympic headline RSS feed
Olympic Chipwrapper comes with an RSS feed of headlines - taking the top Olympic story from a range of British news sources, and throwing the official sports news feed from the Games website in for good measure. The BBC, Guardian, Independent, ITN, Sky and The Telegraph all have specific Olympic feeds, and Chipwrapper quotes the first story from each.
There will also be, from time to time, stories appearing in the feed from the Daily Mail, Daily Star, Mirror, The Sun and The Times. These papers only provide a general sports feed rather than an Olympic specific one, but Chipwrapper will integrate stories that mention Beijing, China, the Olympics or medals of various metals. There may be a few false positives along the way, but until these papers produce more granular RSS feeds, it is the only way to try and include them.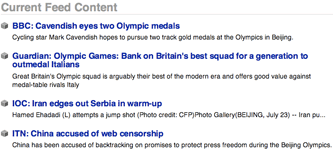 The headlines appear on the Olympic Chipwrapper homepage, but they also make a great 'Live bookmark' to help you keep track of the Games from your browser of choice.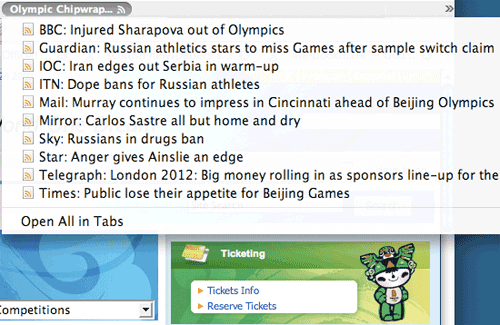 Olympic news straight to your phone
If you want to get the latest Olympic news whilst you are out and about, it can be costly to have to check several pages on the mobile web. Olympic Chipwrapper Mobile Edition brings all the headlines together on one page, as well as providing easy access to the Olympic Chipwrapper Search Engine.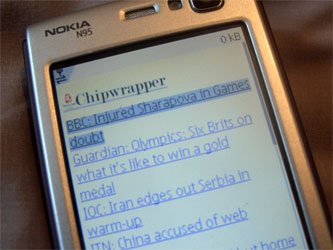 The page is lightweight to download, but you should note that the headlines act as links back to the publisher's web site, which may not be designed to work well with small screen Internet enabled devices.
The Olympic Chipwrapper Mobile Edition has not been tested widely on a variety of devices, but it did work on my Nokia N95 whilst roaming in Macau in China, so at least I believe that it is not being censored by the 'great firewall'.
Credit and disclaimer
As usual, this special edition of Chipwrapper has been assembled exclusively using free Open Source software, and free tools provided by the likes of Google and Yahoo! (Google Custom Search Engine, Yahoo! Pipes and Feedburner), alongside a bit of my own creaky old workhorse Perl.
All of the content used by Olympic Chipwrapper is credited to the original publisher, and links go through to the original story in situ. Olympic Chipwrapper is not endorsed by, or affiliated with either the IOC or the organising committee of the 2008 Beijing Olympics. No animals were harmed in the making of Olympic Chipwrapper.