How was it for you? The Chipwrapper & Fansivu Euro2008 review
With Euro2008 over, and Spain worthy champions, I thought I'd take a quick look at how my two Euro2008 web prototypes fared during the course of the tournament. I built Euro2008 Fansivu, which attempted to track in real-time user-generated content which featured references to Euro2008. I also made a Euro2008 edition of Chipwrapper, my newspaper search engine service.
Euro2008 Fansivu
When I decommissioned Euro2008 Fansivu on Monday morning, the final page showed the strengths and the weaknesses that the service had displayed during the course of the tournament. The photo section had some great shots of goalscorer Torres from the final, and dramatic photos of the German flag and of the celebrations in Madrid. All good stuff. However, the blog section had some adverts for escort girls.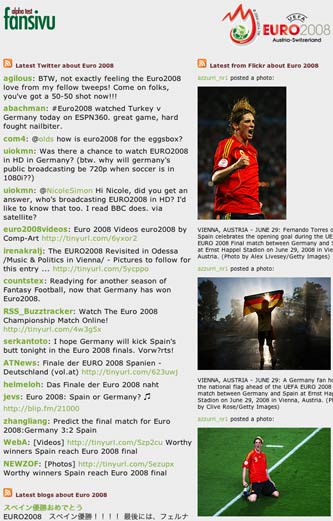 Moderation was clearly an issue for a prototype like this. I didn't do any, which meant that essentially anyone could get anything onto the page simply by mentioning the Euro2008 trigger keywords.
There was also a lot of non-English language content as well. Of course, Euro2008 was a festival of European football, and as the English weren't even there, it seemed fitting to have multi-lingual content on Fansivu. However, next time I think I will do some stricter language filtering so that the content is more focussed for a UK audience.
One of the biggest problems was out of my control - the lame performance of Twitter over the last few weeks meant that my 'latest tweets' feed stuttered somewhat - including during the final.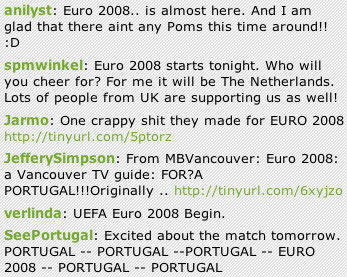 I have some ideas for some improvements, including time-stamped archives so that you can go back and look at what was happening during a game after it has finished.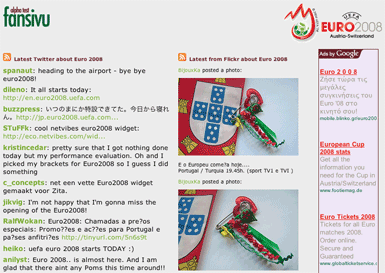 Euro2008 Chipwrapper
Euro2008 Chipwrapper was a mixed bag for me.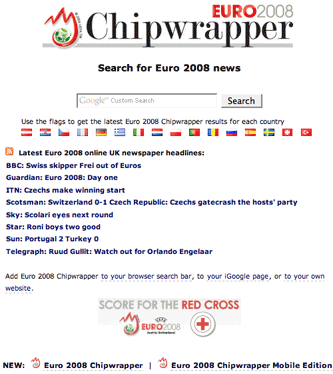 The headline service worked well, and I had it as a 'live bookmark' in my Firefox browser. I would have liked to include more news sources in the headlines service, but quite a few of the major newspapers in the UK don't provide an RSS feed as granular as 'football', let alone 'Euro2008'.

The search wasn't always so good though. I was able to narrow down the index to only include articles from the newspaper (and BBC and Sky) football and footie blog sections. However, there is a real weakness in the Google algorithm, which favours age and link-weight over freshness if it hasn't specifically identified an item as a 'news' story.
Certainly in the Google Custom Search Engine index that powers Chipwrapper, I often found that after a match, the most recent results were not at #1. This screengrab shows that on the morning after the game, the result of the match between Portugal and Turkey is ranked lower than the Guardian's 'live' coverage and a match preview.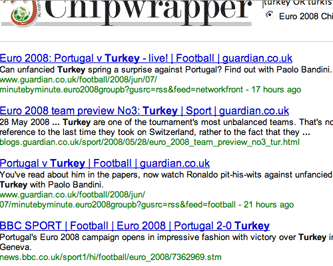 My one feature request to our new digital overlords Google has, for a long time, been the ability to sort the results in a custom search engine by date rather than by relevance.
Marketing
I did a bit of low-level marketing using both StumbleUpon and Google AdWords for the two services. Writing the ad for Google was a bit tricky, as despite their recent relaxation on bidding for competitors keywords, Euro2008 was a protected 'trademark' that couldn't be used in the advert copy.

I targeted the marketing on StumbleUpon to the UK audience, and Chipwrapper proved to be a bit more popular than Fansivu, although both sites earned a smattering of thumbs ups.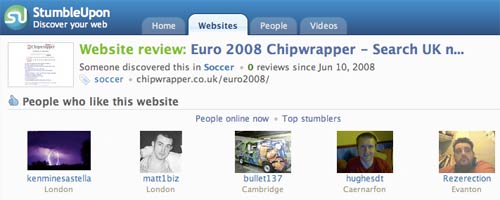 Next...
I've got plans for both Chipwrapper and Fansivu on different topics for later in the year, so watch this space...