Introducing the Euro 2008 edition of Chipwrapper
Last year I produced a special version of my Chipwrapper newspaper search engine to celebrate the Rugby World Cup, and so it only seemed natural to follow suit for this summer's big football event - Euro 2008 in Austria and Switzerland. Today I've put live the new Euro 2008 edition of Chipwrapper.

As ever, Euro 2008 Chipwrapper comprises of a search engine, some feeds and some other bits and bobs to help you find content about Euro 2008 from British national newspapers and broadcasters. All of the components have been built using freely available tools like Google's Custom Search Engine, Yahoo!'s Pipes, and the FeedBurner service, glued together with a moderate bit of my own Perl scripting.
Euro 2008 Chipwrapper Search Engine
The original Chipwrapper search engine only returns results from a set of selected domains relating to British newspapers and news sources. Euro 2008 Chipwrapper goes a step further, and restricts the results to only being from pages about the tournament where possible, or at least to those pages about football and sport. Of course, until the tournament gets underway we won't be able to see match reports and opinion pieces, but at the moment searches return plenty of Euro 2008 preview material from the British online press.
'Follow your team' search
One of the problems with trying to search for football nations is that you are never quite sure what they are going to be called. The BBC is a stickler from referring to the Netherlands as the Netherlands, but many writers use the name Holland as a synonym. And a pun about 'Dutch courage' or 'Going Dutch' is never far away from a tabloid sub-editors mind.
To help solve that issue, Euro 2008 Chipwrapper comes complete with pre-packed advanced search combinations that should turn up all the references to a competing country, regardless of how the press have phrased it. You can click the national flags below to give the searches a test run.
Euro 2008 headline aggregator
On the Euro 2008 Chipwrapper homepage, you'll find an aggregated list of headlines from the British press about the tournament. This, at launch, takes content from up to nine sources.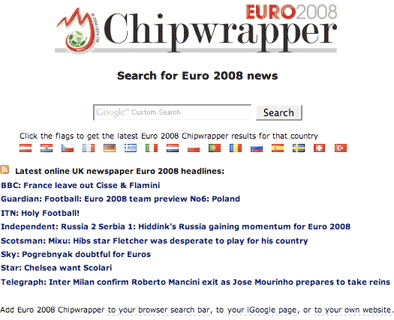 Some news organisations, the BBC and Sky Sports for example, have produced RSS feeds specifically for their Euro 2008 content, and I've used those wherever possible. In other cases, I'm taking the standard football RSS feeds, and then doing some keyword matching against it to try and exclude stories that don't seem to be about the tournament. It won't be perfect, but my testing so far suggests it will be just about good enough once the tournament gets into full swing.
Sadly the Mail, Mirror, Express and Times do not produce RSS feeds that are any more granular than a top level 'sport' topic, and so I've not been able to isolate their top football stories. I've therefore reluctantly opted not to use them in the Euro 2008 Chipwrapper headline aggregation. I think this is a real shame.
Euro 2008 Chipwrapper RSS feed
As well as the headline aggregator on the homepage, you can also subscribe to Chipwrapper's selection of Euro 2008 headlines using RSS. This makes an ideal 'live bookmark' for quickly checking what the lead stories of the day are from a variety of sources.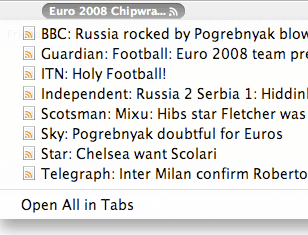 All headlines in the RSS feed are attributed to their publishing source, and all links go directly through to the website of the publisher.
Euro 2008 Mobile Edition
Almost certainly over the next few weeks people will find that real life events get in the way of religiously following the tournament. This is where the mobile edition of Euro 2008 Chipwrapper comes in handy. Point your mobile phone's browser at http://www.chippwrapper.co.uk/mobile/euro2008/ and you'll get a simple WML page with the latest headlines about the tournament from the newspapers and broadcasters, all gathered in one place on your phone.
The mobile edition has mainly been built for my own benefit to be honest, and so I can only vouch for it working on an Nokia N95. Other small screen devices will most likely work, but I've no idea how well the page will render. And, as with the mobile version of Chipwrapper itself, the links will go through to the original story on the newspaper's web site, and therefore will not necessarily be formatted for mobile consumption.
Add Euro 2008 Chipwrapper to your browser
Users of Firefox 2 and Internet Explorer 7 can add a Euro 2008 Chipwrapper search box to their browser.

Add Euro 2008 Chipwrapper to your iGoogle page or website
Because it is built using Google's Custom Search Engine, Euro 2008 Chipwrapper is also available as a Google Gadget. From the Euro 2008 Chipwrapper homepage you can add a Euro 2008 Chipwrapper box to your iGoogle page, or get code to add a search box to your own blog or webpage.
Enjoy!
If you have any feedback about the service, then please email me at martin.belam@currybet.net, or leave a comment below.