Postcard from Macau #9: Information design on Macau's transport system
I recently spent three weeks visiting Macau, the former Portuguese territory on the south coast of China. As a former colony like Hong Kong, it is now a 'Special Administrative Region'. This post is one of a series looking at aspects of information design, user experience, internet use and journalism that interested me when I was there.
Whilst I was staying in Macau I mostly got around by public transport. There is an excellent network of buses across the Macau peninsula and the two islands, Taipa and Coloane, that make up the "Special Administrative Region" of Macau. As I wrote earlier this week, the Portuguese heritage and Chinese location make for a mix of languages and character sets on public notices. This was particularly true of the Macau transport network.
The bus fleet itself was modern, and the majority of buses featured electronic displays on the outside to indicate route number and destination. This usually appeared in both Chinese and European character sets.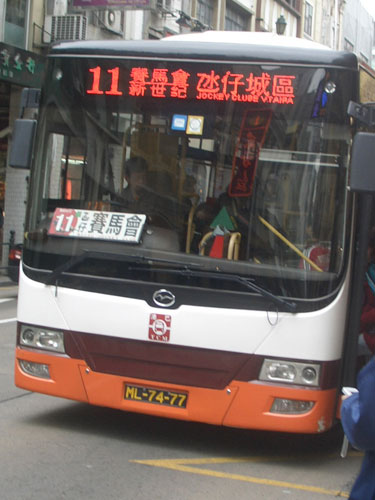 In order to display that depth of character detail, the LED matrix of the signs had to be very dense.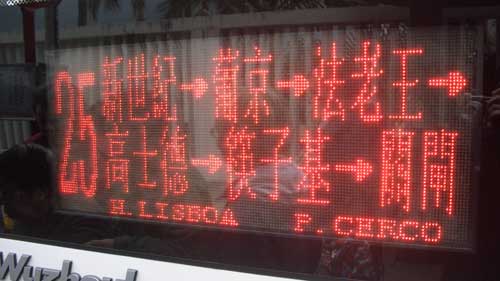 Most buses also carried a more analogue 'back-up' sign in the front window, in case there were any problem with the electronic display.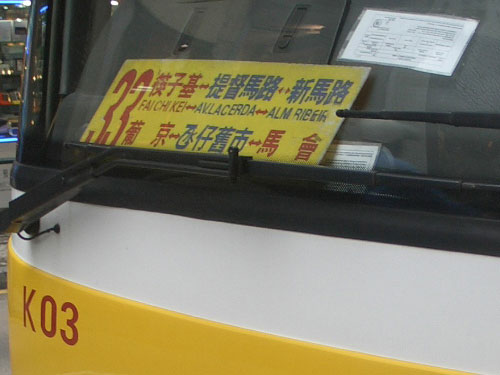 Bus stops were much more traditional, with rotating panels displaying a timetable for each route.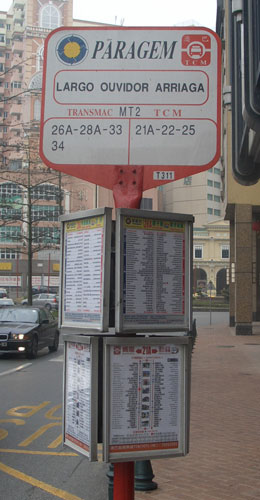 The timetables give the names of the stops in Chinese and Portuguese, and show the route in both directions. They indicate to the traveller where they are and what direction the bus is travelling with an orange 'You are here' sticker. This is attached to the name of the current stop.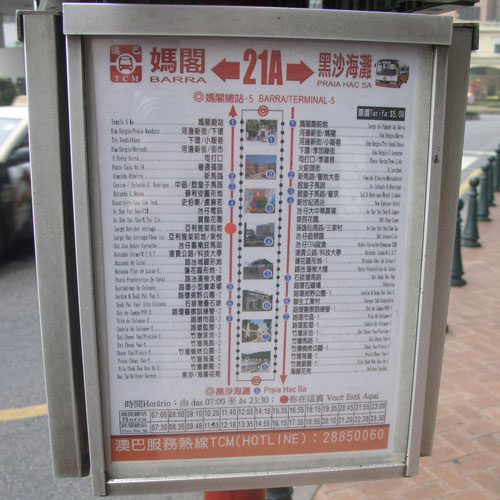 The timetable route map also has numbered pictures of landmarks along the way, allowing those who don't speak Chinese or Portuguese to get their bearings as they use the bus system.
Many of the routes serving Taipa Island terminate by the Macau Jockey Club's horse racing stadium. Here, large billboards indicate where the routes go. Again, the written word is in Chinese and Portuguese (in a funky 70s futurist font), and there are pictures of destinations of interest along the route.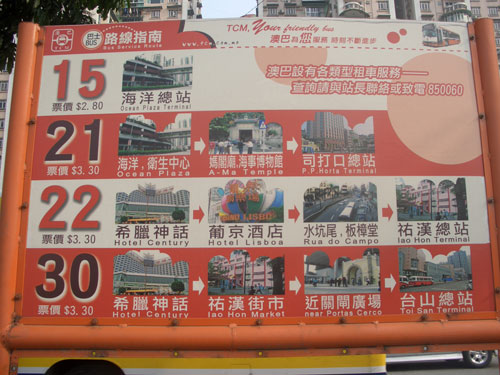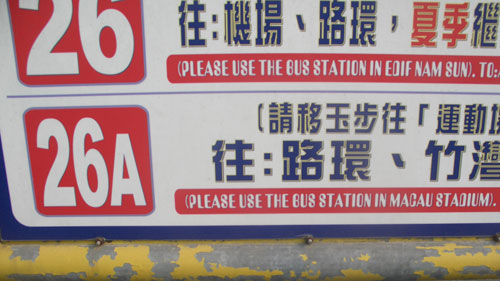 Perhaps the most interesting aspect of the transport information was within the buses themselves. The modern ones were fitted with a speed display, which lets the passengers know how fast the bus is going. If the bus exceeds the Macau speed limit of 80kph (which they frequently do when crossing the long bridges between islands) a high-pitched alert warns both the passengers and the driver. Quite what the passengers are meant to do about their speeding driver, I'm not so sure.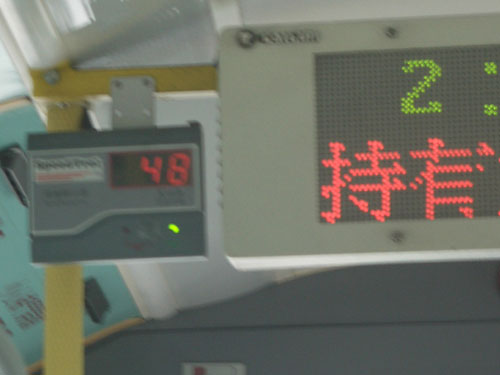 You can see some of Macau's transport information in action in these video clips.