Postcard from Macau #8: David Beckham in Hong Kong
I recently spent three weeks visiting Macau, the former Portuguese territory on the south coast of China. As a former colony like Hong Kong, it is now a 'Special Administrative Region'. This post is one of a series looking at aspects of information design, user experience, internet use and journalism that interested me when I was there.
Whilst I was in Macau last month, it seemed simply churlish not to take the hour ferry ride across the Pearl River delta to visit the old British colony of Hong Kong. It turned out that the fever pitch excitement about the thirtysomething East End boy from Waltham Forest arriving in the area was a co-incidence. The same weekend I was there, LA Galaxy were playing a friendly in Hong Kong.
Unlike tonight, when he seems certain to win his 100th England cap, there was some doubt about whether David Beckham would actually play in Hong Kong. He had picked up an injury in the Californian team's previous game against Shanghai United. However, thankfully for the Hong Kong press, Beckham played all 90 minutes, scored a penalty, and took plenty of set-pieces providing photo-ops for sports reporters.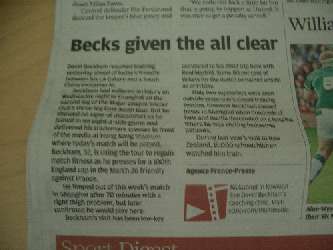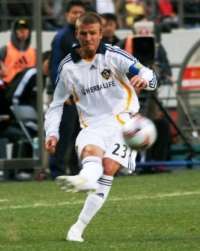 There wasn't actually that much hype around the game that we noticed in Hong Kong, even though we were in town on the same day. I saw much more promotional material for the forthcoming international Rugby 7's.
There was also a noticeable presence for the Beijing Olympics. Hong Kong is hosting the 2008 Olympic Equestrian events, and as part of the promotional push the Hong Kong Jockey Club has organised a 'horse parade' around the city. Based on the oft-copied concept of the cow parade, they have placed 18 brightly-coloured statues of horses around the city. We only spotted one, on the waterfront of Kowloon. [1]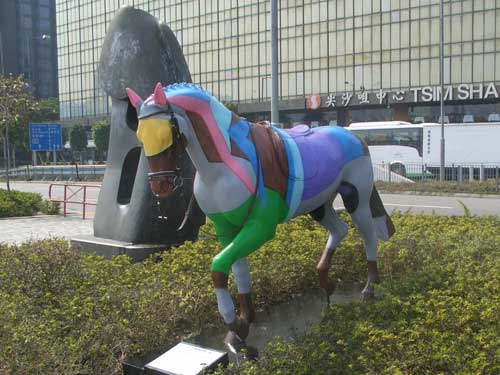 Whatever the excitement level on the street, Beckham's arrival did spur some of the local press to foray into multimedia. The South China Morning Post had this clip of Beckham being interviewed and training online, in what looks like a fairly irregular set of video reports.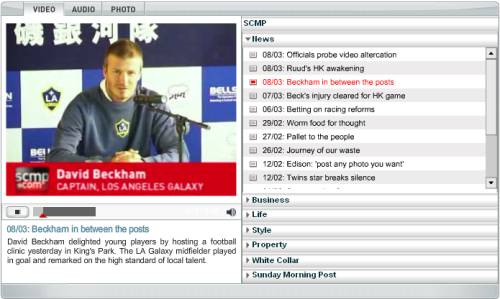 As you may be able to make out from the screengrab, there are only 10 video reports on the site from the last month, of which 2 are about David Beckham, and two are about the Edison Chen sex photo scandal.


[1] That makes horses the third animal I've seen in a parade of this type. As well as cows in Manchester, I've enjoyed Camels on parade in Dubai. [Return to article]