Postcard from Macau #7: Information design in 3 languages
I recently spent three weeks visiting Macau, the former Portuguese territory on the south coast of China. As a former colony like Hong Kong, it is now a 'Special Administrative Region'. This post is one of a series looking at aspects of information design, user experience, internet use and journalism that interested me when I was there.
The unique appeal of Macau is that it is a former Portuguese colony located in Southern China. In fact, it is less than ten years since the Portuguee lease expired, and like Hong Kong, there was a deeply symbolic handover back to the Chinese. Macau has a museum dedicated to the gifts bestowed on the SAR as it joined the 'One country, two systems' of the People's Republic.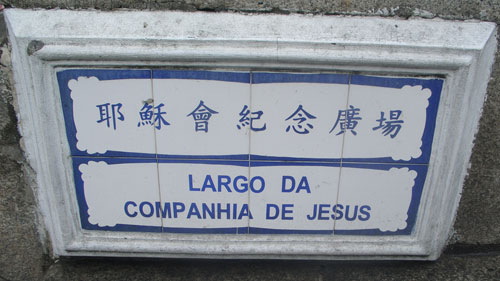 The heritage of the region poses a challenge to providing information in public places. With the area wishing to attract tourists from around the world, often onformation has to be given in three languages and two very different character sets. Whilst local adminitration legally concentrates on Portuguese and writeen Chinese, English is also heavily present on the streets.
A typical example would be these recycling bins. Each compartment was labelled in Chinese, Portuguese and English. And featured a graphical icon. And was colour coded.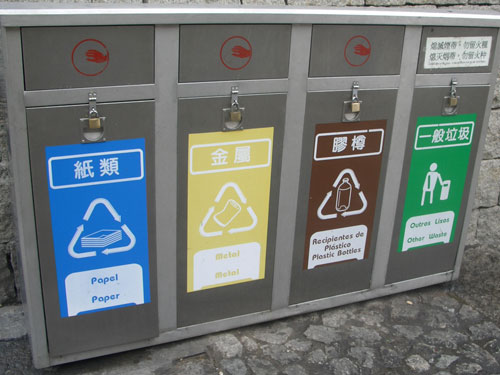 That doen't mean that all multi-lingual signs were useful. On the climb up to the Museum of Macau from the Ruins of St. Pauls, I passed any number of signs that diligently told me in three languages that here were the remains of 'Some people, doing something, at some time'.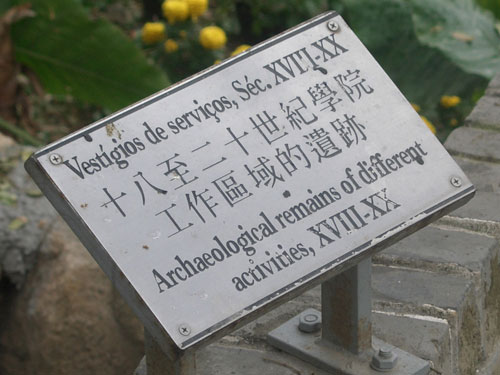 The signs in public parks were heavily visual. All that was missing in this selection was the 'No fun' symbol!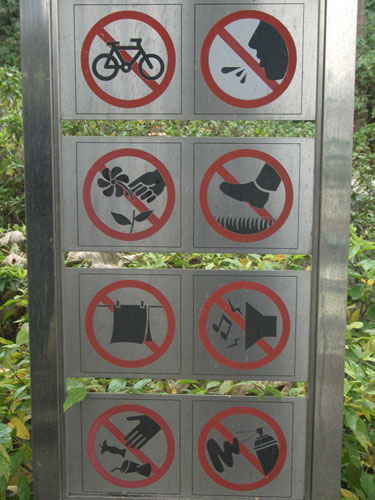 The graphical approach did not always work though. At the Museum of Macau, eating and drinking is banned However, from a distance, thanks to some unclear iconography, it looked like boots and smoking were banned.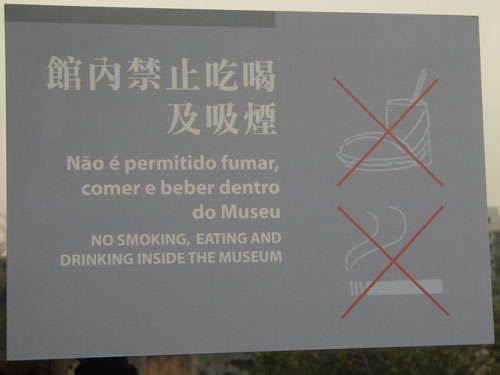 I was staying on Taipa, to the south of Macau. Here, iconography seemed sometimes more of a design decision than an attempt to keep English speakers also involved. This sign was in the entrance hall of the local market, with Portuguese, Chinese, and pictures of the produce available in the different areas.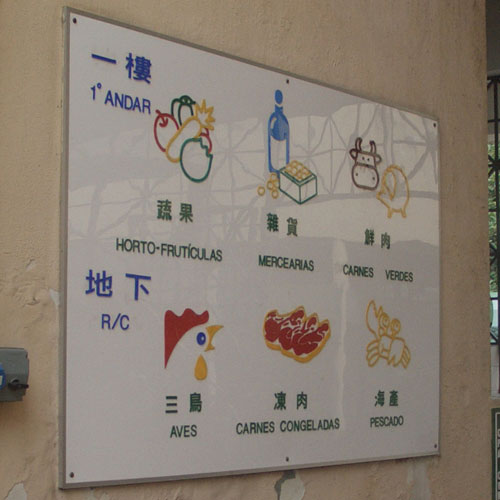 Delivering complicated messages in three languages at the side of the road would be a challenge with static signs. Instead, large screens with animated LEDs rotate through a two minute loop of messages in Chinese, English and Portuguese. You can see them in action in this video clip.
I'm not entirely sure though which language this sign for a 'doggie toilet' was in, or whether the target audience would recognise it!