'Achtung! Surrender' from The Mirror - Get your Euro 96 newspaper xenophobia here
The other week when I was looking at the websites of the Africa Cup of Nations semi-finalists, I mentioned in passing that were England to ever reach such a stage of a tournament again, you could guarantee the press and the official FA website would be in a patriotic frenzy. It called to my mind the coverage of the Euro96 semi-final between England and Germany at Wembley.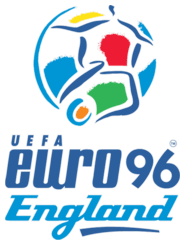 In Mark Christopher Watkin's excellent 2002 analysis of the relationship between hooliganism and the tabloid media in Britain - "Hooligans and hacks, what's the real story?" - he cited the coverage of that particular match as the lowest point in British press coverage of football since The Sun's treatment of the 1989 Hillsborough disaster.
The Mirror's front page featured the headline, "ACHTUNG! SURRENDER." It also contained some pictures alongside the text that featured England team-mates Paul Gascoigne and Stuart Pearce in authentic Second World War soldier's helmets.

As if this article wasn't offensive enough, the tabloid continued in the same vein with its continuous use of war analogy on pages 2- 3 of the same day's publication. This time it exclaimed, "There is a strange smell in Berlin and it's not just their funny sausages, it's the smell of fear." The double page spread also contained photographs with patronising headings including "Zey Don't Like it up zem", in reference to the hit sitcom of the 1970's Dad's Army. However, the Mirror's xenophobic war imagery became even more apparent when its editor wrote on page six of the same edition, "I am writing to you from the Editor's office at Canary Wharf, London. Last night the Daily Mirror's ambassador in Berlin handed the German government a final note stating that, unless we heard from them by 11 o'clock, a state of soccer war would exist between us".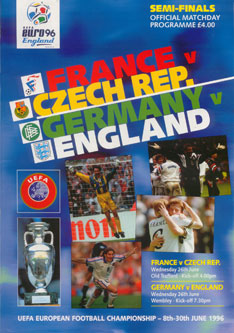 The 'Achtung! Surrender' front page is usually dragged into any re-telling of Piers Morgan's time at The Mirror. This article from The Guardian suggests Morgan had to apologise for it - although it also claims Euro2006 in Germany will be the next test of England's hooliganism threat, so maybe we can take that with a pinch of salt.
Nevertheless, formal apology or not, I was surprised to see that The Mirror think it one of their front-pages worth re-producing.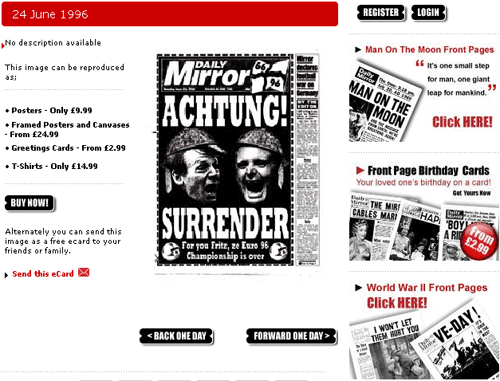 Yep, sensitively placed right next to a promo for purchasing the front pages from The Mirror of the momentous events that actually took place during the Second World War, for £25 you can still own your own framed Psycho-and-Gazza-in-tin-hats front page.
Classy.