24/7 TV news websites: Part 16 - "Most Popular"
One of the user interaction elements I've been fascinated with over the years has been in the ways that people illustrate the activity that is taking place on their site. A visit to a website is often undertaken alone, in the sterile environment of using a computer. Visiting a site that lets you know that other people read this, or that people emailed this to a friend, or that popular searches are x, y and z, gives a site a sense of being alive.
As the final part of my survey of the Al Jazeera, BBC, CNN, Euronews, France 24, ITN, Russia Today and Sky News web sites, I wanted to see what they had in the way of these kind of features.
Al Jazeera
On the Al Jazeera homepage, the right-hand column has a list of the stories that have been most emailed by the site's users.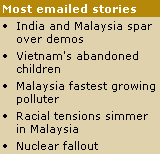 Al Jazeera also applies the most popular principle to their user debates, with a panel showing which areas of their site are most active.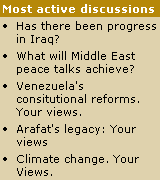 BBC
The BBC News site includes in the right-hand column of their pages a unit which shows the five most read and five most emailed stories at the time. This notably tends to skew towards the sillier end of the news spectrum, to the extent that the recurring appearance of the Sudanese goat story has become a cause célèbre amongst media commentators. Shane Richmond at The Telegraph recently blogged about his thoughts on why the novelty stories do disproportionately well in this kind of popularity display.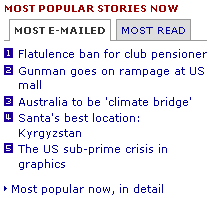 The BBC has another measure of user activity on the homepage, with the inclusion of a statistic about how busy the site is at the foot of the page.

In fact, the BBC publishes an incredibly in-depth set of information about what is proving to be popular across the site at any given moment. It is quite a feat of turning around log analysis in close to real-time.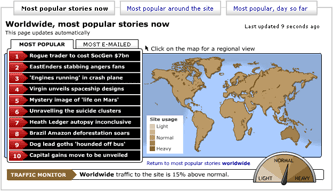 However, it also, to me, indicates some of the tension on the site now caused by serving adverts on international users. In a non-commercial environment publishing this kind of information is purely an issue of transparency and generating interesting content for stats hounds. From a commercial point of view, however, I don't see any other news site publishing for the perusal of rival advertising sales teams such detailed user statistics, handily broken down by global marketing region.
CNN
CNN does not have any content on their homepage determined purely by popularity with users. However, they do utilise a space in their global navigation for 'Hot topics'.

This is a very elegant solution to the problem of getting editorially chosen topical content within a rigid classification scheme, and it avoids the kind of fudge whereby Sky News shoe-horned 'Madeleine' into their otherwise standard news navigation.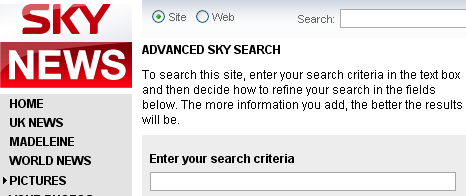 CNN do feature a lot of links on their story pages devoted to content that has proved popular, as I wrote the other day. There are links to popular stories, videos, topics and the most emailed stories.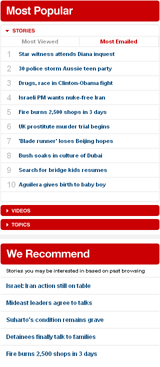 Euronews, France 24, ITN and Russia Today
The Euronews, France 24, ITN and Russia Today sites didn't seem to have any of these kind of user activity measurement features.
The France24 site does feature a tag-cloud labelled 'Most recommended'. However this seems to be based on an editorial recommendation, rather than on user action. There are no buttons on France 24 stories for a user to 'recommend' a story, nor do the stories appear to be tagged or categorised by the types of topic that appear within the tag cloud.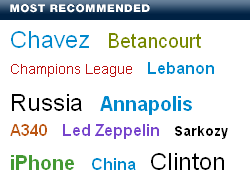 Sky News
Sky News feature a list of the 'Most Read' stories as one of the main content areas on their homepage, however the user has to select the 'Most Read' tab to switch to this view from an otherwise editorially selected list of stories.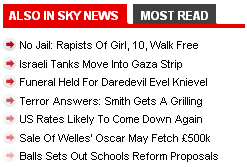 And finally...
This marks the end of my look around the 8 24/7 news channel websites I was surveying - Al Jazeera, the BBC, CNN, Euronews, France 24, ITN, Russia Today and Sky News. I hope some of the comparisons drawn between them were interesting. I thought that CNN had the most modern looking and functional site, with the BBC and Sky News also making a good effort. Both ITN and France 24 had a couple of good ideas, but seemed to suffer from some rather lightweight half-hearted implementation issues. I found Al Jazeera, Euronews and Russia Today to be lacking in usability, functionality and inspiration.
Finally, I'd like to take the opportunity to thank Claire Forrest, who helped me with a lot of the research on these sites.