I make Doctor Who news at last
Technically, it wasn't even an ambition I was consciously aware of having, but after the weekend it appears that I can now die happy. I was just casually perusing my Doctor Who news RSS feeds, when, sandwiched between news that David Tennant had won a Glenfiddich Spirit of Scotland award, and that Andrew Cartmel was going to a convention in the USA, was my name.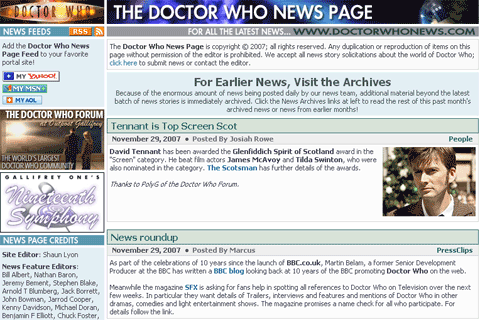 Thanks to my article on the BBC's Internet Blog about 10 years of Doctor Who on the BBC website, I've finally merited a named mention in the Outpost Gallifrey DoctorWhoNews.com news feed - the #1 fan site for the show on the web.
The post has also been picked up by a German sci-fi blog. When I lived in Salzburg my command of the language only stretched to ordering beer and a weekly travelcard to be honest, but the AltaVista Babelfish suggests the blogger is overly wound-up about continuity issues with the "Death Comes To Time" webcast.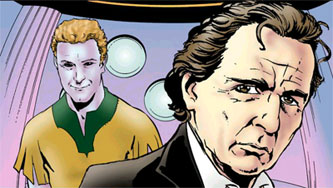 On the other hand, they have put my name on a page headed up by Gort from 'The Day The Earth Stood Still', so it can't be all bad.

"Who's Who? The Resurrection of the Doctor" charts how the Guardian has covered Doctor Who since it was revived in 2005. If features interviews with Christopher Eccleston, David Tennant, Matt Smith and the men in charge of the show's fortunes: Russell T. Davies and Steven Moffat. It also includes interviews with a host of other Doctor Who actors including Billie Piper, Freema Agyeman, John Barrowman and writers including Neil Gaiman and Mark Gatiss. There are contributions from legendary author Michael Moorcock, Seventh Doctor Sylvester McCoy, and specially commissioned illustrations from Jamie Lenman.
"Who's Who? The Resurrection of the Doctor" - £2.99 for Kindle & iBooks.