Headline buzz tag cloud now on Chipwrapper
I put live another new feature on my Chipwrapper newspaper (and major broadcaster) search and aggregation site over the weekend - the Chipwrapper Headline Buzz page.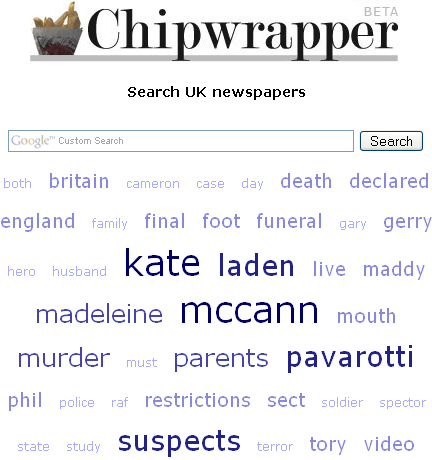 Rather than displaying the usual Chipwrapper aggregation of UK newspaper headlines, it shows a tag cloud generated from the UK's headlines in the previous hour.
The tag cloud is based on analysing the top 10 headlines from 11 UK news sources - the BBC, Daily Express, Daily Mail, Daily Mirror, Guardian, Independent, ITN, Sky News, The Sun, The Telegraph and The Times.
Once a few of the duller stop words are stripped out, the tag cloud shows between thirty and fifty of the most popular words in those headlines.
The top 7 of these buzz words are shown under the search box on the regular Chipwrapper homepage, and the whole set is also available as an RSS feed which updates every hour.
Like everything on Chipwrapper, the basis of it is using open source and free at the point of delivery tools. In this case it was Leon Brocard's HTML::TagCloud Perl module that did the heavy lifting for me.