George Galloway speared by Diamond Geezer
Not literally, unfortunately, but, in a withering blog post today my favourite hometown blogger Diamond Geezer absolutely speared George Galloway.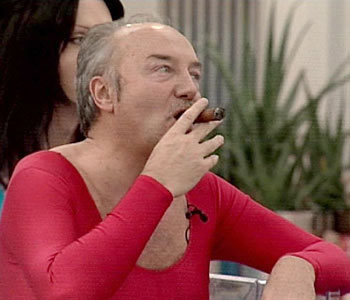 He is Diamond Geezer's MP, and so he writes about the impact that Galloway's 18 day suspension from the House of Commons is going to have on his constituents.
The answer appears to be...well...just about business as usual.
Using the voting records from Public Whip and the speaking records from TheyWorkForYou, Diamond Geezer assesses the notorious self-publicist's recent contributions to Parliament:
"George Galloway has one of the very worst voting records of any MP in the House of Commons. Only ten MPs vote less frequently. Five of those are Sinn Féin MPs (who believe in staying well away from Westminster) and four are Speakers or Deputy Speakers (who aren't permitted to vote anyway). That just leaves Clare Short (who's lost interest since she resigned the Labour Whip last year) and then George. He's attended a miserable 13% of all possible Commons votes since the last election (the Parliamentary average is more like 70%).

...

During the last 18 working days he hasn't spoken or voted in any Parliamentary debate whatsoever. Not once. During the last two months he's spoken on a single occasion only, on the subject of Pakistan, kicking off his speech by mentioning that he holds 'the highest civil award that the country can bestow, the 'Hilal-i-Quaid-i-Azam'. Other than that, not a word. The man is an absentee MP already. How can you ban someone from Parliament if they're never there anyway?"
It is great that these civic sites are able to help hold public officials to account. Don't forget that MPs are able to draw their c.£60,000 salary regardless of whether they ever attend or vote in Parliament. There are no performance related bonuses or productivity indexed pay rises in their contracts of employment.
And despite 20+ years of both sides of the House inflicting upon schools, hospitals, and local councils all manner of grading assessments and league tables, some of them hate having other people numerically reckon their own behaviour - whether it is the number of times they speak in Parliament, or the amount of expenses they draw from the public purse.
It is partly due to MPs objecting to, or manipulating, their online performance measures that TheyWorkForYou includes the statistical measure 'Has used three-word alliterative phrases (e.g. "she sells seashells") n times in debates' - 30 times in George's case.
"A few people have asked why we publish statistics on how often MPs use alliterative phrases, such as 'she sells seashells'. It has even been mentioned in the House of Commons.

Simply put, we realise that data such as the number of debates spoken in means little in terms of an MP's actual performance. MPs do lots of useful things which we don't count yet, and some which we never could. Even when we do, a count doesn't measure the quality of an MPs contribution.

After reading media reports like this one in The Times, and hearing from real MP's researchers who have admitted to tabling questions to increase their boss's rankings, we became concerned about the use of these statistics.

We've done two things. We've added the silly statistic, to catch your attention. And we've removed the absolute rankings. Instead of saying an MP is exactly 5th for giving out verbiage in the chamber, we now just say that they are 'well above average'.

Our advice — when you're judging your MP, read some of their speeches, check out their website, even go to a local meeting and ask them a question. Use TheyWorkForYou as a gateway, rather than a simple place to find a number measuring competence."
Seeing as George Galloway appears to measure his own performance not by how much use he is to the constituents of Bethnal Green and Bow, but by the column inches he generates, I suspect that, unlike Diamond Geezer, Galloway will be well pleased with his performance this week.