6.5% have "Fast internet" in Greece - but not me
I wrote earlier this week about Greece and the take-up of the internet and gaming amongst the younger generation here. Their use of the internet is a marked contrast to the rest of Greek society, which has the lowest internet usage amongst the 25 countries of the EU.
I had to laugh at this story from state broadcaster ERT this week - "Digital Greece with Fast Internet"
As per data presented by the Minister of Economy and Finance George Alogoskoufis on Thursday, within the framework of a meeting on digital strategy 2006-2013 held at the Foundation of the Hellenic World, 6.5% of the population will use fast Internet within the first six months of 2007.
The EU average is for 15% of the population to have high-speed internet access. The government here have set an ambitious target of reaching that 15% by 2009.
What made me laugh was that I was reading this story as it limped into my browser through my 31.2 Kbps connection - a connection speed I thought I'd left behind some time in the 1990s.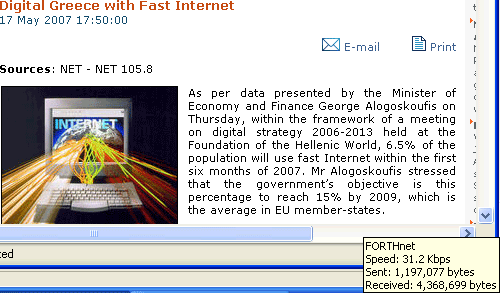 In an email conversation this week I was asked if I was managing to pick up the streaming commentary of the Test Match. I replied that I felt I had more chance of picking up the score in Morse code despatches via short wave than I had of listening to the radio over the internet at home.
It isn't through any lack of wanting high speed internet access on my part that I can't get connected - the state telecoms monopoly OTE has simply not invested in broadband infrastructure for the country.
Until that happens the 15% target figure is going to be unattainable for Greece.