Bob Woolmer's wife rules out / doesn't rule out* murder [Delete as applicable]
I've been following the Cricket World Cup as best I can from Austria, mostly via desktop scorecards since, understandably, it isn't a big thing over here.
Sadly, as any cricket fan knows, the event has been over-shadowed by the death of Pakistan's coach Bob Woolmer. Jamaican police have so far been unable to determine a cause of death, and so the story has seen developments all week, with acres of speculation in the press alongside the tributes and obituries.
This caught my eye today.
Reading the latest BBC News story about it, they have a panel reflecting the current headlines from other sports news outlets.
Daily Mail - Woolmer widow: Murder not ruled out - 1 hr ago

Telegraph - Woolmer's wife rules out claims he was murdered - 1 hr ago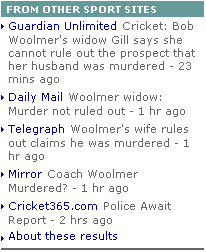 Now lads, you can't both be right.