Christmas cards and rewriting history from the Daily Mail
At the risk of irritating Frankie with my tabloid obsession, I couldn't let pass today the revelation from the Daily Mail that 'Christmas cards are losing their religious message'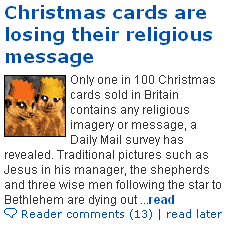 This is part of a seemingly endless campaign by the right-wing tabloid press in the UK to convince their readers that Christmas is being abolished, despite the evidence I saw all around me in the UK when I was there last week, that, frankly, you can't move for the stuff. And it seems to be working. Whist I was back in London, one non-church-going person who I would normally consider sane and rational explained how they were buying overtly Christian cards this year because of all this "PC nonsense".
The Daily Mail's survey found that despite over half of the cards they looked at saying "Happy Christmas" on them, only 1% had 'traditional' nativity scenes. They were, of course, testing high street retail outlets, rather than the charity cards sold by nearly every church in the land at this time of the year, where I assume most devout Christians would make their purchase, and where the proportion of religiously themed cards is no doubt higher.
Now I should add here for reasons of historical clarification that "the nativity scene" did not exist until invented in the 1200s, and that Christmas Cards themselves didn't exist until 1846. And what was on the first Christmas card?
In the center panel was a homey table scene: children, parents and grandparent seated, some of them raising their glasses for a toast. On either side were panels depicting acts of Christmas charity: to the left, feeding the hungry; to the right, clothing the naked. Underneath appears the now familiar phrase "A Merry Christmas and a Happy New Year to You".
The Mail would be furious - apparently not a traditional shepherd, angel, or crib in sight.
But I digress. The section of the article that moved me to froth at the mouth was the fact that it contained what I understand editors call "a factual innacurracy", but what I would call a downright lie by author Ian Drury. In order to cast the source of his quotes in a better light the article states:

Stephen Green, of the religious group Christian Voice – which forced TV bosses to scrap plans to show the 'blasphemous' musical Jerry Springer: The Opera – called for a boycott on irreligious cards.
Sorry? The group which "forced TV bosses to scrap plans to show the 'blasphemous' musical Jerry Springer: The Opera"?
That must be a different Christian Voice group then to the one that don't even claim such a feat for themselves.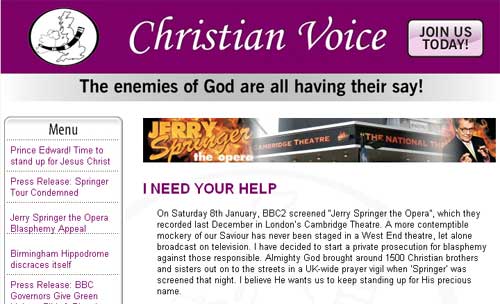 On Saturday 8th January, BBC2 screened "Jerry Springer the Opera", which they recorded last December in London's Cambridge Theatre. A more contemptible mockery of our Saviour has never been staged in a West End theatre, let alone broadcast on television. I have decided to start a private prosecution for blasphemy against those responsible. Almighty God brought around 1500 Christian brothers and sisters out on to the streets in a UK-wide prayer vigil when 'Springer' was screened that night. I believe He wants us to keep standing up for His precious name.
If you don't want to be in any doubt that this was screened on TV, here is the verdict on the complaints from the Governors' Programme Complaints Committee which states it was broadcast, and here is a report on Christian Institute's failed public prosecution.
How ironic that in an article where the Daily Mail is complaining about the airbrushing of tradition, it itself is trying to airbrush broadcast history.