I sometimes think that Google's Adsense system has a wicked sense of humour. That can be the only reason that it often placed adverts about Manchester United, who I abhor, on currybetdotnet every time I mention football.
It went a step further on our 'A lemon tree of our own' blog the other day. I posted about some anti-USA graffiti that had been sprayed just around the corner from our home. The post doesn't actually mention the USA at all, but if you viewed the site from Greece, the top Adsense advert displayed on the page was for 'Quality USA made flags'. And then one for internet TV for Orthodox Christians.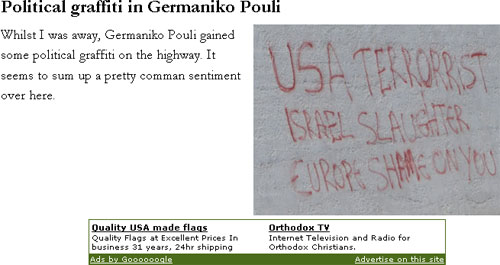 On a more serious note, the localisation of adverts via the AdSense system seems to work very well. I don't know what kind of adverts get served againt my content in the UK or over in the USA, but viewing both currybetdotnet and 'A lemon tree of our own' from Greece as I do, I frequently get to see adverts that are actually in Greek on the site.